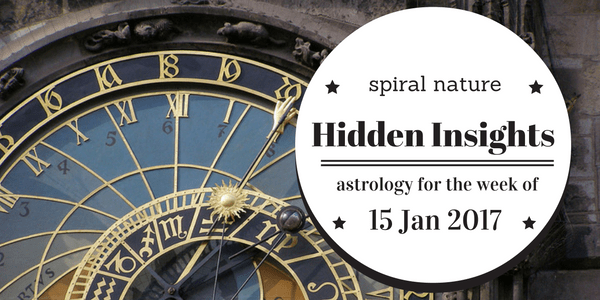 If you're in a part of the world where the winter season is in full swing, you might want to connect with the influence of Aquarius that's moving in this week.  The Sun enters Aquarius on Thursday, 19 January 2017, which is an innovative, idea-drive, future-oriented energy.
Aquarius likes to look ahead because its eyes are always on new possibilities. What are you hoping might be waiting around the corner once spring arrives?
If you are following the phases of the Moon, she is still waning throughout the week, so keep in mind that any intentions or invitations you are hoping to cast into the world are best kept until next week's New Moon, which will also be in Aquarius.
For now, enjoy the energetic shift that will take place later in the week as the Sun moves out of the element of earth and into air.
Here's a look at what's coming up for your sign this week:
Aries (21 March — 19 April)
If your energy is feeling a bit low these days, you can thank the Sun's passage through earthy Capricorn and Mars' transit through watery Pisces. Neither of them necessarily feed into your fiery soul, Aries, but don't let it drag you down too much. If it helps, bring some energy back into your physical self by taking some long walks, signing up for a workout class, or going dancing. When the Sun in Aquarius comes around, you'll feel a boost in no time.
Suggested crystals for the week: Red quartz or carnelian
Taurus (20 April — 20 May)
Listen closely to what's calling to you in the weeks to come, Taurus. Something is trying to wake you up, but you might miss it if you're not paying attention. There are certain questions that you might have to answer about your path and purpose in the year ahead, but some of the answers could appear before you even know what they're trying to tell you. Watch for signs, and remember that not all omens are external – your heart might be the biggest sign of all.
Suggested crystals for the week: Amethyst or clear quartz
Gemini (21 May — 20 June)
Get down to business, Gemini, whatever that means for you. While your sign is notoriously indecisive – and sometimes indirect or unpredictable – I get the sense that you'll have no problem getting your point across in the days to come. So make sure you're using that power wisely. Your voice and your words can make a big impact right now, as people will be ready to listen. But that also means that this week can be a point of no return, so make sure you're ready to follow through on whatever you set in motion right now.
Suggested crystals for the week: Apatite or lapis lazuli

Cancer (21 June — 22 July)
Watch out for mixed messages this week, Cancer. If you've been guilty of sending some out yourself, they might come back to haunt you. It looks like to me like you are entering into a time when it will be in your best interest to be clear about how you want to present yourself, and how you want to be remembered. If you've been unreliable, flakey, or indirect in your dealings with those who are most important to you, you'll be pressed to fix that, stat. Similarly, if you've been too giving, too open, and too generous with those who don't appreciate it, the universe might give you a boost to help put up some better boundaries.
Suggested crystals for the week: Black tourmaline or tiger iron
Leo (23 July — 22 August)
Get your house in order, Leo. Clear out your closet, clean your desk drawers, giveaway anything you're no longer using or in love with. Consciously shift the energy of the space around you and see how your mood changes in the process. New insights about where you're headed are waiting to come clear, but you'll have to make room for them first.  

Suggested crystals for the week: Jade or black obsidian   

Virgo (23 August — 22 September)
It's time to get back into your element, Virgo. Invite optimism to walk by your side. Trust in the visions that are coming to you now. Trust, too, in the conversations you're having these days – even when they're with yourself. For you right now, words are seeds, and what you say can take root as the year unfolds.
Suggested crystals for the week: Dragon's blood or garnet

Libra (23 September — 22  October)
When you look back at old photos of yourself, what do you see reflected back? Who have you been, and who are you now? What's still valid, and what's waiting to be changed? I think this week will be a good time to tap into your history to determine your future. Your identity is asking for a little bit of a transformation, but make it's something entirely new, fresh, and relevant to you.
Suggested crystals for the week: Black obsidian or pyrite  
Scorpio (23 October — 21 November)
Are your old dreams still valid, Scorpio? Do you still want to be heading down the path that you once thought might have been yours to take? If something feels like it's starting to crumble beneath your feet, don't scramble to stand your ground. Instead, let it fall as it may. I get the feeling that the more you listen to what's asking to go, the clearer you'll get on what might take its place.
Suggested crystals for the week: Lepidolite or tiger's eye

Sagittarius (22 November — 22 December)
Your shadow self wants some face time, Sag. Can you plan a date this week, for just the two of you? I think it might be beneficial to enter into an honest dialogue with yourself to hash out some of the parts of your identity that you're not so proud of. If you're not sure where to start, think about what habits or personality traits tend to drive your loved ones up the wall. Rather than coming from a place of pure defense, take down your guard and see what you might be ready to change.
Suggested crystals for the week: Howlite or chrysoprase  
Capricorn (22 December — 19 January)
What points do you feel you're struggling to get across, Capricorn? It might be helpful for you to sit down this week and make a list of ways you're not feeling heard or seen. Rather than feeling like you have to impose yourself on anyone or anything in order to keep moving forward, take a look at that list and think about what you might need to say or do differently. Once you take yourself out of the moment, I bet some new insights will start to rise up.
Suggested crystals for the week: Ulexite or clear quartz
Aquarius (20 January — 18 February)
This week can be the start of something big, Aquarius, especially when it comes to your goals. Assert yourself. Make time and space to focus on where it is you're going. I would even go so far as to say that you might want to shut out any social distractions this weekend. Put off plans with your friends to mastermind your vision for the year to come. What you decide for yourself this week can end up being a pivotal moment in time for you.
Suggested crystals for the week: Red tiger's eye or pyrite   
Pisces (19 February — 20 March)
There is something magical about you these days, Pisces. If you find that strangers seem to be drawn to you right now, just go with it. Your energy is giving off good vibes and people want to be part of it. You might also find that you have more ideas than you signed up for right now. There is an abundance of creative energy flowing into you these days. Make the most of it. This can be the start of something beautiful and important.
Suggested crystals for the week: Elestial quartz or wulfenite
Save