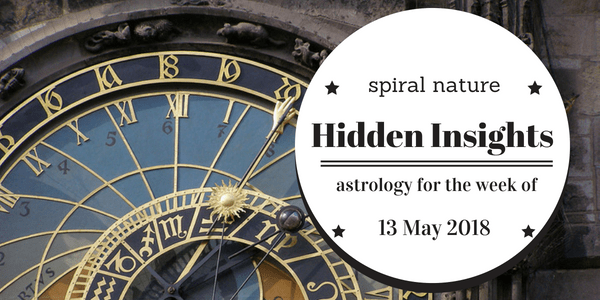 Hidden Insights is excited to share with you the most important astrological event of the year happening this week. Uranus will enter Taurus on Wednesday, 16 May 2018, and transit this sign until 2026. When a planet like Uranus changes signs, it signals a major shift in global energy and consciousness. As always, it's a good idea to look at the past in order to understand some of the more complex energies of this change. The last time Uranus was in Taurus occurred from 1935-1942.
During Uranus' last pass through Taurus, the themes of Taurean stability, security, radical changes in beauty, and financial systems were clearly seen. In the United States, the social security system was established, along with the standardized minimum wage. Also in the United States, the financial crash of 1929 had devastating effects that revolutionized the way countries around the world looked at and handled financial security through the second half of the 1930s, when Uranus changed signs. Taurus energy is often known for having strong and unmoving ideals and beliefs, while Uranus adds a note of extremism. This was most clearly expressed with the rise of Adolf Hitler and the Third Reich in Germany.
Of course, not everything about Uranus in Taurus was concerned with depression and war, there were some amazing advancements in the way we entertain ourselves. This is because Taurus also rules comforts, and much of the 1930s brought  exciting advancements. Some of these inventions include nylon, Teflon, the first canned beer, ballpoint pens, freeze dried coffee, colour television, and the first electronic digital computer.
While Uranus in Taurus does not necessarily promise financial disaster and genocide, we can see that a change in the way the world will look at security and money is likely to be revolutionized over the next several years. We are also likely to see ways in which technology and innovation continues to help make our lives easier in ways we couldn't have imagined.
While this is all very exciting, these effects will take time to manifest as they ripple across time and space. This week, specifically, will be affected by a series of other celestial events. Along with Uranus changing signs, Mercury will enter Taurus, Mars will enter Aquarius, and Venus will enter Cancer. Having four planets change signs in one week can feel rather exciting, and many new beginnings are likely to take place, as these changes are also supported by a New Moon in Taurus.
Overall, the first part of this week will bring with it a need to give advice to those around us; however, it's not likely to be taken well, particularly when Mars squares Uranus on Wednesday. Mercury trines Saturn on Friday and Venus enters Cancer on Saturday. This makes the upcoming weekend filled with heightened intimacy and harmonious relationships building. It will be a great weekend to surprise a loved one with some in-home activities.
Astro Homework
With so much going on astrologically, it was a bit of a challenge for Hidden Insights to pinpoint a specific assignment. For this reason, you have a choice between two. Of course you could do both if you like.
First we must consider Uranus' shift into Taurus. Here Uranus can challenge us to find creative ways to take care of our planets resources. Try reviewing how you conserve resources, recycling, or handle waste. There's no better time than now to make some changes to better care for the Earth.
Secondly, with Venus entering Cancer on Saturday, you may want to find a way to nurture your home and family life. Those of you who may have been fearful of intimate or romantic relationships should challenge yourself to embrace intimacy.
Aries (21 March — 20 April)
Financial matters and money become the central focus of your week, Aries. Monday and Tuesday you may be challenged to take a financial risk. Aries is not typically known for playing it safe, so make sure you first know exactly what you're jumping into. This is particularly important as Uranus will move into your house of finances and personal values. The potential for fluctuations in income is almost guaranteed for the next few years. Wednesday brings more financial news, as a friend or organization may invite you to participate in a money-making program. It might just be the right time to give this a try, but be reserved with you your own financial investments. Over the weekend, you'll have a chance to slow down, and it may be time to spend some more time focusing on your family. You'll be feeling more nostalgic than usual, and you're likely to hear from a parent or relative who reaches out to support you. Generally, you'll have the opportunity to enjoy more simple pleasures.
Useful numbers this week: 2, 11, 10, 4
Taurus (21 April — 20 May)
It's big week for you, Taurus, as both Mercury and Uranus enter your sign, along with this month's New Moon, also occurring in Taurus. Early in the week, Mercury moves into a position that forces you to get out of your house and do some socializing. You may have been feeling down or even a little depressed lately, and it's time to be done with that. Uranus brings the opportunity to radically change your approach to life. The next several years are going to be filled with amazing changes. So, this week you should get ready to transform and improve your identity, vitality, and direction. A supervisor, authority figure, or law enforcement professional also features in your chart this week, particularly on Wednesday. Anticipate some productive conflict here. However, if you exercise patience and due respect, you'll be able to overcome anyone who may try to hinder you. Over the weekend, a family function is forecast. If you have siblings, use this energy to smooth over conflicts that may have caused drama in the past.
Useful numbers this week: 1, 10, 9, 3
Gemini (21 May — 20 June)
Your mind turns inward this week, Gemini, which may be a nice change from the external stimulation over the last few weeks. While it may not be usual or comfortable for you to completely retreat, it's just what the universe has ordered. Take the first few days to nurture yourself, as you'll perk up around Thursday. As Uranus changes signs, its chaotic and changing energy moves from the sector that rules friends and groups into a much more personal and private position. You can anticipate the next several years to be coloured by a review of past habits that may have inhibited your growth. It's time to break free from what has been binding you. Along the way, a few skeletons may fall out of your closet, and the first one to be revealed may come out this weekend, and is likely to be related to money or spending habits. If others try to advise you on a better way to spend or save, make sure you take their advice.
Useful numbers this week: 12, 9, 8, 2
Cancer (21 June — 20 July)
It's a social week for the otherwise private Cancer. Expect the first few days to be filled with conversations, messages, emails, phone calls, and gatherings of groups. Friends will be flowing into your world more enthusiastically than they have in a while. As this happens, Uranus will move into the area of your chart that rules friendships and social circles. Major changes are coming over the next several years that will get started this week. Uranus here also indicates a time when you are likely to embrace, join, or become involved in a metaphysical or occult group. Friday brings an important conversation about or with your romantic partner. If you are single, you may hear from a friend that they are interested in dating, or wanting to just remain friends. Over the weekend, you're blessed by Venus moving into your first house. This is a particularly powerful placement to transform your physical beauty and appearance to others. Those around you will be more aware of your looks, and you will exude charm and sex appeal. It is also a good time to invest in self-care or beauty products, as any purchased over the next few weeks will carry this transformative and enhanced power for you.
Useful numbers this week: 11, 8, 7, 1
Leo (21 July — 20 August)
Work and responsibilities seem to demand more of your attention this week, Leo, and it's likely you may be approached by a supervisor to help with a problem. While relaxing days in the Sun may be calling, you might want to consider doing that favour for your superior instead. Wednesday could bring some conflict with a partner or spouse, as you two may find yourselves at odds dealing with ego issues. As Uranus moves into your house of career and reputation this week, you're on the verge of transforming how you work. There is a good chance that your career may change over the next few years, so you'll want to start considering different paths that interest you. Of course, it doesn't need to be a complete change of field — you may decide and be able to move up in your current ranks into a supervisor position. On the weekend you can expect to hear some juicy gossip about a friend who is having problems in the marriage or relationship.
Useful numbers this week: 10, 7, 6, 12
Virgo (21 August — 20 September)
Your mind races early this week, Virgo,  as Mercury moves into your sector of philosophy and travel, so you might want to consider making travel plans within the next week, while Mercury is here. You're certainly inspired to do so. This is further emphasized as Uranus moves into the same area of your chart. Frequent and even unexpected travel is usually seen for the seven years Uranus sits in this area. Don't be surprised if an opportunity to get a way pops up at some point this week to kick off this long transit. Wednesday could bring some tension at work, so you'll want to be aware that coworkers may be more on edge and combative than usual. Go into the day with an optimistic attitude, and try to remember that others' issues are not your problem. Over the weekend, Venus moves into your house of friends and socializing. Expect a particularly active and social weekend, especially if you plan on having friends over to your place for a get together.
Useful numbers this week: 9, 6, 5, 11
Libra (21 September — 20 October)
It's time to do some digging, Libra, as your natural curiosity and need to uncover secrets will rise this week. If you have children, they will also be on your radar, and likely the inspiration for your research and need to problem-solve. As most of the week focuses on getting to the bottom of problems to find a solution, the transiting Uranus lends a hand as it moves into the same sector. This marks the beginning of a seven year cycle that could bring some unexpected shocks to your financial situation. Shared resources and debts that include taxes, loans, a partner's income, or alimony is likely to shift, so be prepared to encounter rocky waters. Of course ,this doesn't have to be all bad. Uranus shakes things up, so if one of these areas of your life has been stagnant or unproductive, you could see a major change for the better. That's the great thing about Uranus — it has the potential to change for the better, as much as it can cause  chaos. Over the weekend, you can anticipate the need to smooth over conflict with a friend.
Useful numbers this week: 8, 5, 4, 10
Scorpio (21 October — 20 November)
You're going to spend much of this week rebalancing others' points of view, Scorpio. It's almost as if you're challenging Libra. While you may suffer from indecisiveness this week, you'll make things much clearer for those who seek your assistance, particularly on Wednesday. As Uranus changes signs, it's time for you to assess the relationships in your life. Which ones are healthy? Which ones need to end? You might also want to be aware that close friends or romantic partners may exhibit some erratic or unusual behaviour this week. Do your best not to judge them too harshly for it, though. Friday is likely to be your busiest day of the week, as you attempt to catch up on everything you earlier put aside. Anticipate that you and a friend or sibling will run errands, coordinate schedules, and work together as a team. Over the weekend, you can expect to ruminate on memories of far off places or cultures. Allow yourself to indulge in some foreign foods or experiences, if possible.
Useful numbers this week: 7, 4, 3, 9
Sagittarius (21 November — 20 December)
Responsibility calls, Sagittarius, and it's time to put your nose to the grindstone. For those of you who regularly see doctors or other medical professionals, you might want to make an appointment now, in order to avoid any scheduling conflicts. You never like to feel confined, and as Uranus moves into your sixth house, work may become increasingly uncomfortable. While the next seven years bring you the opportunity to change jobs, try not to make any hasty decisions. Wednesday will be your most stressful day, and this stress is likely to manifest at work. If you run into a disagreement with a coworker, don't take it too personally, and make sure that afterwards they know you understand their frustrations. Over the weekend, your romantic life could get a bit of a boost, as Venus moves into your sector of intimacy. Make sure you haven't completely filled your schedule, otherwise you could miss a rather amusing evening.
Useful numbers this week: 6, 3, 2, 8
Capricorn (21 December — 20 January)
Your mind is much more creative this week, Capricorn, and it gets a rest from the more practical energy it's used to. Romance and sexual pleasure also seems to fill your mind, at least for the first half of the week. On Wednesday, this creative flow shifts to a need to prove yourself to others. It's also possible that an argument over personal property could surface, so be prepared to defend what is yours. As Uranus changes signs, it will enter your sector of creative self-expression, sexuality, and children. Here sudden and shocking developments in your romantic life will become more prominent. Anticipate the next several years to be coloured by strange and exciting romantic encounters. Friday brings the first wave of this energy into your life, when an invitation could lead to sparking a new romance, or the rekindling of a current one. On Saturday, Venus, the planet of love, moves into your house of partnership, and marks a period where love flows both to and from you. If you are single, it is likely that a new love affair may begin this weekend.
Useful numbers this week: 5, 2, 1, 7
Aquarius (21 January — 20 February)
This week brings you the power of increased mental focus, Aquarius, and your concentration is at its max. You may notice that your memory and ability to recall information is heightened. If you've been wanting to learn something new, this is the week to get that started. While Hidden Insights does not like to forecast doom and gloom, you may want to be cautious on Wednesday, as Mars moves into the first house. It is not uncommon to suffer minor bumps or busies to the head. As Uranus changes signs, it will urge you to look at your home and surroundings. While you probably won't sell or move overnight, the next few years could bring about a possible move to a new home. Do your best not to make any concrete plans this week — sudden changes are likely right now, and you'll need to be flexible. Over the weekend you can anticipate company, as doing anything completely alone is not likely right now. Building on teamwork is focused for Saturday, and you may find yourself leading a group.
Useful numbers this week: 4, 1, 12, 6
Pisces (21 February — 20 March)
Mercury lends its busy energy to your sector of mental processes, Pisces. This is why Monday may feel like a tailspin as you are overloaded with information. On the bright side, you'll be much more eloquent and able to direct your work in a focused manner. A surprise visit or phone call is likely early this week as well. Uranus also moves into this area of your chat, and it will stay there for the next several years. This allows you to come out of your shell, and you may find yourself embracing unusual ideas. Your family's past is also likely to surface, and many with this transit will begin research into their family history. While this can be a difficult task, you'll find it easier to do at this time. While Sunday through Tuesday is exciting and busy, Wednesday could bring some more solemn influences. When Mars moves into your twelfth house, you begin to review things that you have accomplished, and your mind may become preoccupied with what you have or have not done yet in your life. Mars here also marks insomnia, so make sure you get enough physical and mental stimulation during the day this week so that you aren't up all night. The weekend's energy is very generous as Venus moves into the most romantic position in the chart. Others become much more affectionate to you, and it's likely you'll spend some quality time with someone special on Saturday.
Useful numbers this week: 3, 12, 11, 5