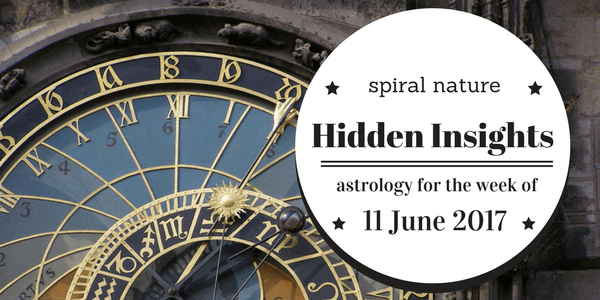 The planetary weather this week highlights the culmination of a period of intensified learning that we've all been experiencing. Hidden Insights recommends an approach that emphasizes understanding above all.
The Sun in Gemini opposes Saturn in Sagittarius this week, exactly on Thursday, 15 June 2017, and also forms a challenging t-square aspect with the Wounded Healer asteroid Chiron.
It's hard to find the silver lining in a configuration such as this, as such painful core issues are subject to agitation. But find the silver lining we must. Especially since it's the development of resilient narratives that turns out to be the solution, as well as the reward, for surviving this current time of crisis.
Mercury moves to join the t-square by the weekend, emphasizing communication and the catharsis we achieve by articulating our experience. Keep in mind that it is vulnerability, and your time, that are the prime currencies worth spending on those that matter.
Venus in Taurus sextile Mars in Cancer all week carries on last week's idea that we need to remain conscious of how we feed ourselves at both a physical and emotional level. We're attuned to what it takes to make ourselves and other feel safe and nourished.
It's too easy to revert back to old habits that feel good now, but don't serve us long-term. Try to keep it real and make your physical wealth your priority.
You are deeply encouraged to record all intellectual impressions from this time for posterity and future reflection. Next week we begin a transition to a water sign, emphasized in the heavens as both the Sun and Mercury join Mars in emotionally oriented Cancer and we reach the New Moon in the same sign.
This intense period of intellectual growth must be integrated, lest it be forgotten with the tidal shifts that the Cancer season promises.
Here's a look at what's coming up for your sign this week:
Aries (21 March — 19 April)
You may have to swallow your pride this week, Aries. Signs point to a need to set the record straight regarding an important detail that's been glossed over recently. It could be specifically about your role in the home, or something more philosophical. Whatever it is, it's tied closely to your sense of self-worth and capability. You know how to stand up for yourself, and now is not the time to suddenly act coy about who you are and what you're all about.
Your secret weapon is: Integrity.
Taurus (20 April — 20 May)
While other signs are running on autopilot, you'll recognize the need for sound decision making from moment to moment, Taurus. In fact, an important lesson about decisiveness is exactly what's in the cards for you. If you're confused about your priorities, then make sure to take some time to connect with how you're feeling about certain situations. This should provide you with enough clarity to help you move forward with more confidence towards the next challenge.
Your patronus is in touch with their core values.
Gemini (21 May — 20 June)
The Sun travelling through your sign has been empowering for you on a subtle level, Gemini. As the Sun and Mercury now move to oppose Saturn in the opposite sign of Sagittarius, this power is challenged and consolidated. It also signals that you'll be feeling less certainty than you've been getting used to. Showing even a little faith in yourself at this time will go a long, long way. Remember, this is all about demonstrating your commitment to being a leader in your own life.
Your holy mantra is: I'm the boss.
Cancer (21 June — 22 July)
With Mars in your sign you've got significant power at your disposal, Cancer. And you have a duty to care for this creative force. This is not the kind of energy that dissipates when you put your head in the sand, so don't avoid it. You'll know that you've gone off track if you find yourself stuck in a victim mentality or blaming anyone else for your emotional state. You can't go too far if you're not willing to admit fault. The sooner you own yourself, the better off everyone will be.
Your sacred object is a white flag.
Leo (23 July — 22 August)
No matter what you do this week you're likely to have some kind of mess to clean up, Leo. So you may as well accept that now. This might sound like a negative prognostication, but in actuality it's a liberating one. You've got the freedom to make mistakes, to step out on the wrong foot, and to have things blow up in your face. Hopefully with this insight, you now realize how futile maintaining a fearful attitude about failures is at the moment, since the road to success is littered with them.
Your patronus isn't afraid to put a foot wrong.
Virgo (23 August — 22 September)
It's natural to be attached to outcomes, Virgo. It helps you to perfect your processes and align your actions with something meaningful. The challenge is in determining which outcome is most important and also in accepting that these values are subject to vacillation. While shifting goalposts can make for a tedious game at times, it also provides the chance to show off your flexibility. Keep in mind that the worst thing you can do now is refuse to play the game at all.
Your secret weapon is: Your willingness to change your mind when the situation calls for it.
Libra (23 September — 22  October)
Dear Libra, I think it's important to remind you that the benefic Jupiter is still travelling in your sign. Jupiter expands everything it touches and, perhaps without realizing it, you have been going through an important period of spiritual growth. I'm reminding you now, because this transit won't last forever. It's important to make the most of the fortune that these last months can offer you, if you're willing to consciously align yourself with key jovial concepts such as gratitude.
Your holy mantra reflects how lucky you are.
Scorpio (23 October — 21 November)
You're encouraged to let yourself be carried away by a swell of deep emotion this week, Scorpio. Before you do that though, ensure you've got an understanding of where these feelings originate. Ideally you want this emotional surge to be coming to and from the heart. If you find your feelings are borne from a stickier, shadowier part of your being, that's ok. All you need to do to bring any situation back to centre is add compassion.
Your sacred objects are anything that opens your heart wider.
Sagittarius (22 November — 22 December)
You've got a golden opportunity to get real this week, Sagittarius. It's a chance to test all of the stories you've been telling yourself about why you have to wait to achieve something that's important to you. In actuality, Sagittarius is one of the best signs at calling bullshit; it's just that this time, you won't just be critiquing the world around you. Your challenge this week: to determine if you're the only one standing in the way of mastery.
Your secret weapon is: Brutal honesty.
Capricorn (22 December — 19 January)
Thanks to Mars in Cancer, it may feel as though you're fighting more fires this week than usual, Capricorn — especially in close relationships. Denial and avoidance are not good tactics for success in matters of the heart. If you find yourself unable to break free of a cycle that includes these approaches, then you may need to ask yourself how much you actually want to win.
Your patronus has no qualms with showing how much they care.
Aquarius (20 January — 18 February)
Changes have been brewing for some time now, Aquarius. And the universe doesn't care whether you feel ready for them or not. This might sound harsh if you've become thin-skinned, but every now and then a little tough love is absolutely necessary. While the cosmos is dishing out uncomfortable truths, here's another for your consideration: If you don't make up your mind, you'll have it made up for you. Your move.
Your holy mantra is: I know what I want.
Pisces (19 February — 20 March)
You've got the chance to be an everyday hero this week, Pisces. While part of you is always going to reject being considered so important, another revels in the idea of life as a myth and you as a key player. So play with this idea, and allow yourself the chance to talk up your positive contributions to the world around you. Don't worry — you're not in any danger of turn into a narcissist overnight.
Your secret weapon is: A healthy amount of pride.