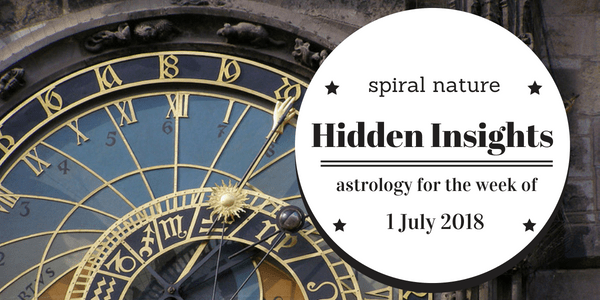 Last week, Mars stationed retrograde, which is bringing some uneasy and slow moving energy. This week, Hidden Insights observes Chiron turning retrograde. While Chiron is not a celestial body that is often discussed in this column, we must sit up and pay attention when it does something big. Known as the wounded healer, Chiron shows where we suffer to learn. During its periods of retrograde, it allows us to focus on things in our past that we have not completely gotten over. This is an opportunity to address old wounds and, at times, this may feel a bit uncomfortable. For many, it's easier to suppress the things that cause us pain. However, this is neither healthy nor productive. Chiron allows us to safely revisit the past and grow from it, so don't be surprised if a situation or a person from the past comes to call.
On Tuesday, we see a watery trine between the Moon and Sun, which brings doctors and caregivers to the forefront of conversations, and possibly news coverage — particularly with Chiron turning retrograde. Before the summer is over, we can expect to hear dramatic and shocking news concerning a hospital, physician, nurse, or teacher.
Also this week, the Sun makes a lovely trine to Jupiter, which brings boundless optimism and good fortune. Those who are Cancers and Scorpios will feel this most intensely. This occurs on Thursday, 5 July along with Mercury opposing Mars. Together these two planetary events get conversations and debates cooking. We can expect the last few days of the week to be filled with inflated confidence around the globe. Meetings that take place right now are likely to be verbally aggressive. This is a good time to exercise verbal command in negotiations or expressing opinions.
Astro Homework
As Chiron turns retrograde on the Thursday, 5 July, you'll want to take time to review situations or people who have caused you pain, as well as those who you have caused pain to. This is a period of healing and forgiveness. The heavens are opening up, and we can truly move forward with our lives after tying up some loose ends. Even if you can't think of a situation you need to resolve, spend time over the weekend meditating on your past, and review who has been an important part of your life. Chiron will help you uncover what you need to work on.
Aries (21 March — 20 April)
This week is all about your physical body and fine tuning it into a perfect machine, Aries. There is a good chance you let some aspect of your health or physical appearance go, and it's starting to affect your confidence. You may be inspired to spend more time at the gym, change your hair, shave off your beard, or even consider plastic surgery. Something needs to change, and while you are known to go to extremes, try small changes first. There's no need to put yourself through a life-changing makeover. Mercury and Mars could cause some conflict with friends later this week, as you'll be feeling more in the mood to fight, at least verbally. Unfortunately, with your ruling planet still in retrograde, you might not be able to win this particular battle. Just keep telling yourself that it's nice to let others win sometimes.
Patronus: Badger
Taurus (21 April — 20 May)
Your friends need your attention, Taurus, and social planets are triggering a busy week. On Monday and Tuesday you are likely to receive an invitation from a friend to come for a visit. Someone you haven't spoken to in a while may also make an appearance this week. Focus on time spent with your friends, as some self-doubt may creep up mid-week. This is coming from Chiron, whose motions bring out forgotten fears. Allow yourself to acknowledge how you feel, but don't obsess. Remember, your friends are there to help distract your busy mind. Thursday's warm energy brings harmony to your sector of romantic interests. This will be an excellent weekend to initiate a romantic relationship or rekindle an old one.
Patronus: Honeybee
Gemini (21 May — 20 June)
Harmony flourishes at work this week, Gemini, as good vibes seem to surround your interactions with both coworkers and supervisors. This will also be your most financially beneficial week, as the Sun and Moon produce harmony to this area of your chart. It's a very good thing you're getting along so well at work, because your friendships may be tested. This is first triggered on Thursday, when Chiron turns retrograde. You may need to accept the loss of a friendship, or face a fear concerning large groups or crowds. Over the weekend, expect these themes to heat up, as a debate may lead to a disagreement. Your ruling planet is opposing Mars, and that will give you, and those around you, sharp tongues.
Patronus: Rabbit
Cancer (21 June — 20 July)
It's time to prove to the world, and more importantly to yourself, what you are capable of, Cancer. Beyond needing to confront your fears, this week will test your ability to prove that you can care for yourself. Too often Cancer gets caught up taking care of others, and this week it's all about taking care of yourself. A family member or parent may have been overprotective, or even made you feel rejected. Now is your chance to prove just how much you can accomplish without their help. Thursday could bring an influx of money with some surprise income. If you receive some extra funds this week, make sure you spend it on something exciting for yourself. There's no need to be overly cautious financially. Enjoy yourself.
Patronus: Squirrel
Leo (21 July — 20 August)
Summon your inner Lion this week, Leo, so you can more effectively deal with feeling a bit more emotional. This extra sensitivity may put strain on your relationships; however, it will only last one week. It has been said that we can get through anything — as long as we know it won't last forever. Hold on to this saying when your week feels as though it will never end. On a positive note, your home life is likely to enjoy an exciting boost on Thursday, and you may even come home to a pleasant surprise. Over the weekend, the hard aspect between Mars and Mercury could bring arguments to a head with a significant other or business partner. Do your best to remain level-headed, as neither of you are likely to win.
Patronus: Blue whale
Virgo (21 August — 20 September)
The week starts off on a high note, Virgo, when a partner our spouse surprises you with an exciting adventure. For those who are single, this is likely to manifest as a friend expressing a romantic interest in you. However, this is likely a misunderstanding, and your friend is only interested in friendship. Not all kind gestures have ulterior motives. While the majority of the week is fairly pleasant, the news of a death or serious illness is possible over the next few weeks, with this Thursday being the most likely. An aunt, uncle, cousin, or sibling is likely to share some exciting news with you though, that will help soften the emotional blow, if you do hear some distressing news. You will enjoy a very relaxing weekend and, after the chaos at work on Friday, you'll need it.
Patronus: Raven
Libra (21 September — 20 October)
A productive week is head of you, Libra, and you are likely to be focused on getting a great deal accomplished. Not only will work be keeping you busy, but tasks around the house are also on your agenda. The great part about being so busy, is that it makes time fly by quickly, and you won't even notice the hours passing. You may receive positive feedback or a compliment from a coworker, customer, or client. This will help you advance professionally later on in the year. The only caution you need to hear is not to let work interfere too much with your personal life. Your new busy schedule may not be so exciting for others — especially those who rely on you. This could lead to a disagreement by the end of the week.
Patronus: Beaver
Scorpio (21 October — 20 November)
Put your investigative mind away for the week, Scorpio. You should be relaxing with mindless activities! Too often your brain is going a mile a minute, and now it needs a rest. Early in the week, you can expect to find yourself indulging in lazy activities. There is nothing wrong with that. In fact, it will do you some good. Others may try to guilt you into being productive, especially midweek. However, you need to stand your ground, and enjoy doing nothing. On Thursday, you can expect to encounter a blog or article that steers you into a new direction. This revelation may even bring about a change in faith or religion. At this point, you can start to fire up your mental engines again as the week comes to an end. Saturday brings with it the chance to run into conflict with authority figures. Make sure you keep your cool, and tread carefully around those in positions of power.
Patronus: Tabby cat
Sagittarius (21 November — 20 December)
Retreat into your safe space early in the week Sagittarius. On Sunday and Monday you need to think about how you define your own safety and security. Perhaps you've let others take advantage of you too often, or you just need some alone time. Tuesday may stir up some emotions from your childhood. These emotions are then put to the test when someone comes into your life asking for a favour. Here is the perfect opportunity to draw the line on what you are (and are not) willing to do for others. Thursday bring good news related to debts, so you may be offered a good term on a loan, or receive a substantial rebate. A sibling makes an appearance this weekend, though you may want to be cautious with how much you share with them. It's not that their motives are impure, they just may not know how to keep a secret as well as you do.
Patronus: Salmon
Capricorn (21 December — 20 January)
A very social week is ahead of you, Capricorn, with an endless array of meetings and gatherings. This is set into motion on Tuesday, when all of your plans for the week will be finalized. You'll also have the opportunity to share your concerns at work with a group of peers. Capricorns are often known for their level head, but this week you might need to work extra hard to keep your emotions in check. Especially when giving input at a team meeting or family get together. You may need to go over your budget this week to make room for a new debt. Fortunately, any debt you take on right no, will have favourable terms. Just make sure you stand your ground and get everything you're asking for. Mercury is on your side during negotiations.
Patronus: Iguana
Aquarius (21 January — 20 February)
Promises are sometimes hard to keep, Aquarius, and this week you may need to work hard to honour one. Extra care and concern for a friend or family member may be needed, especially on Tuesday. As you care for someone else, make sure you care for yourself. You are more prone to sore throats and vocal issues this week, so keep tea and honey close by. It's possible you may be tasked with taking charge of a project. If this occurs, don't worry about doing things perfectly. Your job is to make sure it gets off the ground, not tend to the finer details — delegate that to someone else. Thursday brings some tension, as someone in your life is likely to say something that may upset you. This could quickly escalate into a full-scale shouting match, but it will be resolved by Saturday.
Patronus: Buffalo
Pisces (21 February — 20 March)
Expect to be less than accepting of others' thoughts and opinions this week, Pisces. You'll feel rather confident and possibly dismissive of others' points of view. This could certainly get you into some trouble if you're too vocal in your objections. Remember that you are a Pisces, and going with the flow comes naturally to you. At times, you'll feel unable to control expressing what you believe is the truth. However, it may not be accepted by others. On Thursday, you have the best opportunity to express your truth, and it might be a good time to have difficult conversations. Your attention to the details right now will help you persuade others; however, it is not likely to get you very far at work. Here you should exercise restraint in voicing your opinion.
Patronus: Harbour seal