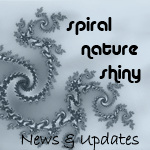 SpiralNature.com is looking for reviewers – bonus if you live in Toronto.
We have more books than we know what to do with, and a back log has been piling up – especially for unsolicited titles. We'd love to review them all, but just don't have the time.
If you love to read, and are interested in receiving free books and publication on SpiralNature.com, please contact me with your area(s) of interest, and provide a sample review or a sample of writing if you don't have a review.
Again, bonus points if you live in the Toronto, we don't have a budget here, and whatever we can save on shipping we can spend on hosting and associated costs.
Thanks!
Update: More than a dozen people responded, and we now have enough new staff reviewers for now. We're always looking for new contributors though, and if you're interested, please see our Submission Guidelines.
Thanks again!