Magick
Chaos magick is all grown up, and if there are punk zen monks,1 there are also chaote monastics.
Are you a bad witch? Bad Witches is a new blog and it's off to a strong start, with posts on hacking the tarot, and what Jove's up to on Thor's day and how you can make harness that money magick goodness. (Or is that badness?)
Mindfulness meditation centred around Baphomet? Count me in.
Check out Sable Aradia's great two part (so far) series on sex magick, "A Sticky Subject: Teaching Sex Magick: Part I" and "Part II". Important reading.
"Women: if you join a magical school or group and they have a specific role for women, then back out and go elsewhere," says Josephine McCarthy, and I completely agree.
An amulet of Thor's hammer dating from the 10th century was found Danish Island of Lolland with a runic inscription. Nifty.
A tarot spread based on the Sphinx Gate from The Neverending Story? Yes, please.
Spirituality
Gavin and Yvonne Frost have released a lightly revised version of The Good Witch's Bible.
Integrating ancient Pagan ethics into modern life needn't be a challenge (see Brendan Myer's latest book, The Earth, The Gods and The Soul, or indeed any of his books!), and Cara Schulz does a great job of explaining how she finds arete in a football stadium, of all places.
Ethan Doyle White interviews Ronald Hutton about his life and work.
If you enjoyed Thomas Zwollo's essay, "Of course Thelema is satanic," then check out the latest podcast from Speech in the Silence, which focuses on Satan and the nature of evil.
Photo series of the witch doctors and healers of Bolivia.
Is spirituality something that is solitary, or ought it be communal? Looking at the growth of those who identify as "spiritual but not religious."
Your calendar not doing it for you? Give this one a try.
On the linguistic origins of sacred space.
Meditation is hard and you will always fall short of your ideal. And that's ok. (Also see this recent post on building self-discipline.)
The apocalypse, medieval-style.
Culture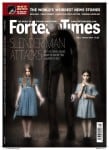 Ian Cat Vincent wrote the cover story for the latest issue of Fortean Times and we're super proud of him. Check out his feature story on the Slenderman fakelore phenomenon in the August 2014 issue.Congratulations, Cat!
Cat writes a regular monthly column for Spiral Nature called The Hype that deals with occulture as portrayed in television, literature, and other media. His new article next week deals with cultural appropriation in Supernatural. Stay tuned.
In the comics world, Thor is debuting as a woman in October. Not She-Thor, not Lady Thor, not Thorita — this is the Marvel Universe's new Thor. The previous dude was found to no longer worthy, and a new and mysterious character has taken up mjolnir. The artwork released thusfar looks pretty spiffy. This should be interesting.
The Associated Press Stylebook has been updated to include Wicca, though the word "Pagan" is still presented in lowercase letters. Well, at least It's a step in the right direction.
Sitting quietly and thinking is hard.
Reviews
The occult roots of Frances Hodgson Burnett's children's classic The Secret Garden explored.
A review of Ronald Hutton's Pagan Britain and Marion Gibson's Imagining the Pagan Past.
776½ reviewed on the Hermetic Library Blog.
Being a book reviewer isn't easy. In fact, it's a pretty thankless job.
Bonus
Are you following us on Facebook, Google+, Pinterest, Tumblr, and Twitter?
If not, you're missing out. We share tons of great stuff on these sites that doesn't always make it here. Take a look, and give us a follow. We tend to follow back.
Did we miss anything? Found something you think we should share? Leave us a note in the comments.
What a great name for a band! [↩]