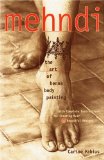 Mehndi: The Art of Henna Body Painting
, by Carine Fabius
Three Rivers Press, 0609803190, 1998
The book opens with a short history lesson on the origin and uses of the plant and art form. Maps, pictures of the plant and practical applications are interspersed throughout the history and cultural lesson.
Indeed, the book is profusely illustrated with many wondrous designs all over the body, focusing mainly on the hands and feet, but there are many designs shown on the arms, chest, belly and back, ranging from very simplistic to extremely complex, both modern and traditional designs from various cultures which use henna art religious and celebratory occasions.
Easy to follow instructions are given on harvesting and preparing the plant for use in an easy to make recipie for the paste used to dye the skin, as wells as detailed explanations and diagrams for creation of an applicator, though a store-bought one with a metal tip is recommended, especially for finer, more detailed designs.
There are even exercises and techniques listed to help you along before you begin, and over 30 designs and symbols (some with short descriptions of their meaning) with instructions on how to proceed to create some of the beautiful designs illustrated, and application and creation techniques. I would have appreciated a more detailed explanation for the symbols and how they're used in the given culture, but the descriptions are short and superficial.
At the rear of the book, there are a few studios listed in the States where you can have henna applied, as well as a short bibliography and some design books suggested for reference, as well as an index and short author biography.
A well designed book, I love the pictures, as natural henna only comes in a few shades of brown or red, the black and white pictures don't take away much. If you're interested in giving mehndi a go, this book could give you an excellent start.