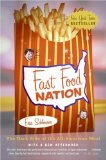 Fast Food Nation: The Dark Side of the All-American Meal
, by Eric Schlosser
HarperCollins, 0060938455, 383 pp. (incl. photo credits, notes, bibliography, acknowledgements, and index.), 2001, 2002
Fast Food Nation is not for the faint of heart with its horrifying depictions of livestock farms, slaughterhouses, the fast food restaurants and school cafeterias so many of us come into contact with, utterly blind.
Schlosser takes the blinds off the utter lack of respect for human and animal rights efficiently and devastatingly, with personal stories and anecdotes from around the world. Harassment, theft, intimidation, lawsuits without an end in sight.
One assumes with any book like this that animal rights issues will crop up, but these – cruelty to the livestock with overfeeding, overcrowding – are only the tip of the iceberg. Seemingly far worse, and more personally devastating, are the gruesome working conditions of the employees. Slave wages, injury without compensation, blatant harassment, and the sanitation conditions of the slaughterhouses, restaurants, and cafeteria are obscene. Suffice to say, I'm glad I was a vegetarian long before reading the book.
Yet despite all this, Schlosser remains positive, believing that that one day 'people can be fed without being fattened or deceived' Perhaps even a little over-optimistic, he hopes that 'this new century may bring an impatience with conformity, a refusal to be kept in the dark, less greed, more compassion, less speed, more common sense, a sense of humor about brand essences and loyalties, a view of food as more than just fuel. Things don't have to be the way they are'.1
Meticulously researched with a massive sixty-three page detailed notes section, Schlosser's work is quite impressive. Often horrifying, but always educational Fast Food Nation is an absolute must read for all.
pg 288 [↩]