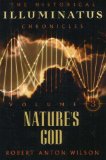 Nature's God: The History of the Early Illuminati (The Historical Illuminatus Chronicles, Volume III)
, by Robert Anton Wilson
New Falcon Publications, 1561841641, 225 pp., 1991, 2004
In Nature's God, the third book of Wilson's Historical Illuminatus Chronicles, it is 1776, and our dear Sigismundo Celine has done a runner and made for America. Here he meets up with Seamus Muadhen, now James Moon, who also left the old world after not killing his sworn enemy. They chat, briefly but insightfully, over alcohol before parting ways, Sigismundo further drowning himself: 'Those of happy histories can ask what lies behind the surface of things. Those of us who know what lies behind the surface always choose to enjoy every illusion as long as possible. The color of a perfect English rose in my brain, not in the flower, but I would prefer to enjoy the color than to think dull thoughts like that. Leave philosophy to the innocent. We veterans of infernos and abysses prefer the roses, the sunsets, and the beautiful meaningless music'.1 Shortly after, James joins revolutionary army of George Washington and Lafayette.
After leaving a few false leads in his wake, Sigismundo flees to the wilderness where he build himself a cabin, and sit in meditation 'seeking the solitude to make his mind an empty mirror at the age of twenty-six. That was the result of being involved with conspirators and magicians since he was fourteen'.2 However he is occasionally interrupted by the adorably named Miskasquamish of the Maheema, a shaman of a fictional Native North American tribe.
Meanwhile, back in England, Maria is initiated into a surviving witch cult in England and begins spreading feminist propaganda under a false name, while her husband advances in Freemasonry and turns to the drink and boys.
This is an immensely quotable book, perhaps even more so than the previous volumes, despite its smaller size. don't think this will be the last book in the chronicles, it seems decidedly unfinished, with the possibility of a fourth in the future.
Wilson has packed a lot of excellent material into this work – where else are you going to read an in depth piece on God's Willy? Highly recommended in addition to the previous two.
pg 36 [↩]
pg 69-70 [↩]