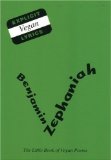 The Little Book of Vegan Poems, by Benjamin Zephaniah
AK Press, 1902593332, 2000
The Little Book of Vegan Poems, aimed at both children and adults, begins with a compilation of definitions from various dictionaries and encyclopedias before moving into the poetry. This little book has it all: veganism, animal rights, nature, limericks, hell, even vegan erotic poetry – some cute, some vaguely disturbing, many nonsensical, all eco-friendly, makes me wonder if this book was printed on recycled paper.
There's a warning to meat eaters on the back and inside that the poetry might offend them, but the poem "Eat Your Words" ((p. 30)) pretty much sums it up with "And vegetarian poets / Make me nervous quite a lot." 
There is a handy list of vegetarian and animal rights groups and resources listed in the back of the book, along with other excellent titles from AK Press, as well as a short biography of Zephaniah.
For the vegan who has everything but.