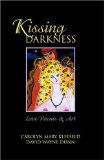 Kissing Darkness: Love Poems
, by Carolyn Mary Kleefeld and David Wayne Dunn
RiverWood Books, 1883991838, 93 pp., 2003
In 1980 David Wayne Dunn first wrote to Carolyn Mary Kleefeld after reading her first book of book, Climate of the Mind, expressing his admiration. Over the next seventeen years, they continued their correspondence sharing poetry and gradually their more intimate experiences. The poems in this book were written between 1996 and 2002, which Dunn and Kleefeld wrote for each other.
This lover's dialogue in poetry, Kissing Darkness, written over a five year period, expresses romantic and erotic ideals, conveyed in vivid metaphor.
The poetry in this collection is interspersed with beautiful illustrations, being Kleefeld's bright and expressive series of paintings titled Immortal Letters and Dunn's colour ink drawings.