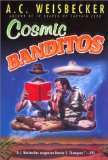 Cosmic Banditos
, by A. C. Weisbecker
New American Library, 0451203062, 1986, 2001
Mexican drug dealers, quantum physics, and the pursuit of enlightenment through obscurity with a cast of many interesting and bizarre characters.
This edition comes with a forward by the author, which is interesting in and of itself, but would probably make more sense had you read the book beforehand – as it is with most forwards in works of fiction.
The plot mainly surrounds around three main characters. On whose name you never learn, though he goes by 'Mr. Quark' in messages to Tina's father.1 You also meet Jose, the Bandito, became Drug Lord, exiled Drug Lord, thusly back to Bandito, then back to Drug Lord; he doesn't speak English.2 And High Pockets, 'Mr. Quark's' dog – he doesn't understand Spanish, he likes the bitches though.
Rollin' high times and good fun, this is on my list of books to recommend to people during especially mundane times in addition to the Hitchhiker's Guide to the Galaxy, Principia Discordia, Illusions and similar great works of literature.
"When all is said and done, when all the shouting and philosophizing and moralizing is over, I suspect that this tale is simply another example of something."
Incidentally, as far as the story is concerned, Tina's father never possesses a proper name either. Coincidence? I think not. [↩]
This is not entirely true, he does know one enlightening song in English. [↩]