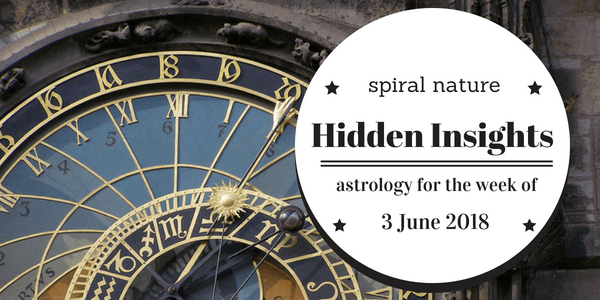 A second week of mellow energy again graces the column of Hidden Insights; this is due to so few astrological aspects in play. However, we must remember that this is speaking in generalized terms, as it does not reflect what is being activated in your own individual natal chart. The planets in play this week are the Sun, Mercury, Venus, Pluto, and Neptune.
Early this week, the Sun and Mercury trigger both important and warm conversations that will help build positive interpersonal relationships. Especially strong on Tuesday, this is the day to reach out and make a connection. We may hear of important conversations that are happening now, or are planning to happen. This trigger is followed by an aspect between Venus and Pluto. While Pluto may have a bad reputation, when he works with Venus, the ability to transform relationships becomes evident. Clearly, the important conversations starting this week are likely to have a positive and transformative outcome.
Also this week is a second aspect with the Sun, though this connection is with Neptune. For many, this will set the tone for the second half of the week and most of the weekend. At times it can create diminished energy, as well as a sense of weakness. However, it's not likely to manifest in this way. Instead, we can expect to see emotional fluidity. Essentially, most of the world will become more aware of their emotions and feel them with more intensity. At its best, this produces a wonderful opportunity to reconnect with the spiritual side of one's personality. Overall, this week supports important conversations and connections that transform or create relationships that will help us honour and uncover a deeper spiritual experience.
Astro Homework
This week is all about transformative encounters and emotional self-awareness. If you are someone who tends to suppress your emotions, challenge yourself to really experience how you feel. Hidden Insights would also like to suggest that if there is a relationship that has been causing stress in your life, you should reach out with the aim of healing those tensions.
Aries (21 March — 20 April)
Your sector of communication, transportation, and mental processes is activated early this week, Aries. Here you can anticipate your mind working in overdrive for the second week in a row. This will relate specifically to your reputation at work. It is highly likely that the conversations around forgiveness, and relationship-building will be with those in your work environment. A woman specifically comes into focus, and she will give you the advice you need in order to make a positive change. The steps you take early in the week will affect how it all plays out on Thursday and Friday. These two days may force you to confront an emotionally charged issue. Your challenge is to not take it personally, and learn to deal with criticism. Taking a moment to think before reacting will make a huge difference, and keep you out of trouble. Over the weekend, you'll have the opportunity to spend time outdoors and get your hands dirty. This may manifest as a nature walk, gardening, or even camping.
Flavour of the week: Lemon
Taurus (21 April — 20 May)
Reassessing what you value most in life will be a reoccurring theme this week, Taurus. At times, you may need to speak up about what you believe in. You may also be put in a situation where you will need to stand up for someone else. If this occurs, know that your voice is most powerful right now, and those around you will listen. This is because those around you will look to you as a moral compass this week. With that, you want to be cautious about what you say, as those will take it as the gospel truth. Money comes into to focus in the second half of the week, and a friend may ask for a loan. While Hidden Insights cannot tell you if this is the right decision for you, seek out the advice of a family member to help put this situation into focus. Over the weekend, your friends may want to treat you to an evening out. Accept graciously, and enjoy the joyous distraction of spending time with those who support you.
Flavour of the week: Amaretto
Gemini (21 May — 20 June)
The Sun and Mercury join forces in Gemini this week, and there can be no doubt that the conversation seems to be all about you. Of course, you've always been blessed with the gift of gab, it's just heightened right now. Where you are often balanced in discussing other interests, you won't seem to be able to stop talking about yourself. This isn't necessarily a bad thing; however, you want to try to be aware of how others may perceive this. Just like Taurus, money also comes up a number of times this week for you. An important conversation with a business or romantic partner is likely to surface on Tuesday. Something here is about to change for the better, and they want to share in their success with you. Over the weekend, you may feel like a Leo, as you'll be taking the centre stage at a gathering. Enjoy the attention, just be cautious of those around you who may imbibe a few too many cocktails.
Flavour of the week: Pineapple
Cancer (21 June — 20 July)
Secrets and deception colour your life this week, Cancer, as the Sun and Mercury align in your 12th house. Here you may be talking with others behind closed doors, sharing secrets, and hearing rumours. Try not to believe everything you hear this week, as most of it will be grossly exaggerated. A secret of your own may even be revealed, so you'll want to make sure the proverbial skeletons in your closet are locked up tight. A secret crush is likely to reveal themselves, or you might make plans for a romantic rendezvous with someone you haven't even told your closest friends about. Over the weekend, expect to spend time with family that you may not have seen in a while. This is most likely to manifest in the form of a party, get together, or dinner. This will be your opportunity to repair a stressed relationship, and finally forgive or make peace with someone who you may have felt distant from.
Flavour of the week: Hazelnut
Leo (21 July — 20 August)
It's no surprise to anyone how much you love being the centre of attention, Leo, and fortunately for you, you'll get your fill this week. Friends will play a particularly large role, and you can anticipate a last minute get together or two. Work may have been particularly stressful lately, and you may have thought about throwing in the towel and finding another job. This doubt will be laid to rest this week, as your work environment will be changing. As a fixed sign, you are not a fan of change; however, you can lay your fears to rest, and be confident that you'll adjust well to any changes that come your way. Allergies or an illness may rear their heads, so do your best to get plenty of sleep and stay hydrated. On Saturday, a friend in need may reach out for emotional support. While you may not necessarily be helping someone through a physical death, it could be helping a friend process an ending.
Flavour of the week: Pomegranate
Virgo (21 August — 20 September)
There's not much time for fun this week, Virgo, as you become busy with work. You may even wonder if it will ever let up. Stay focused right now, as supervisors are paying extra close attention, and you'll have the opportunity to make a lasting impression. A direct supervisor is also likely to have an important conversation with you this week that will lead to an exciting opportunity — if you stayed focused. Of course, if you have been slacking off, this conversation could spell tension. It will be up to you how this energy will manifest. Also, at some point this week a conversation about a vacation or getaway is likely to surface once again. You'll need to figure out some of the financial logistics, but it's not out of your budget. Just try and think outside the box. There is no need to vacation in the same place all the time. This may especially true if a partner surprises you with a raise, bonus, or secret savings account for just such an occasion over the weekend.
Flavour of the week: Mint
Libra (21 September — 20 October)
Legal affairs may arise this week, Libra, and conversations with a lawyer, advocate, or judge may be in the works. Of course, it doesn't necessarily need to be serious. It could just as easily be a priest, religious leader, or spiritual advisor. Either way, an important conversation is likely to take place with one of these types of professionals, and you would do well to take their advice. Too often you labour over which decision is best, and they will help you solidify a plan or course of action. A change at home is also due this week. Here you will see that it's time to either get rid of something, someone, or change where you are living all together. Indeed, this week an important conversation could change your entire living environment. If these changes do pop up, understand that they are meant to bring harmony and financial prosperity into your life, even if it is not immediately evident. Over the weekend, you'll likely be more physically active than usual, which will reap some spiritual benefits along with physical ones.
Flavour of the week: Orange
Scorpio (21 October — 20 November)
Death, the occult, and all things taboo is not unfamiliar territory for you, Scorpio. So, you'll be delighted to notice many of your conversations surround these subjects this week. You get the opportunity to debate the more esoteric concepts in life. While all of this sets your creative juices on alight, you should also be aware that a conversation about joint finances is also likely to surface. You may need to rework your budget with a partner, and you may want to figure out how to invest together on a large project or purchase. This investment is likely to be symbolic, as one of you may be returning to school for a first or advanced degree or certification. Over the weekend, money continues to come up, as your spending may increase. Be careful making emotional or impulsive purchases, unless you are certain you can return an item later. There is a good chance you'll feel some buyer's remorse.
Flavour of the week: Grape
Sagittarius (21 November — 20 December)
A chance encounter with someone will likely change the course of your life this week, Sagittarius. For those of you who are single, this could be the week you meet the one. If you are currently romantically involved, this meeting could easily become a business or professional opportunity. Either way, you're due to meet someone who can have a big impact on your life. On Tuesday, you may have a eureka moment about your own financial situation. Something you have been holding on to in terms of financial inequality may come to a head. So, if you've not fully let go of or forgiven someone who did you wrong financially, you may be confronted with the need to do this. Holding onto stress or anger is never healthy, especially when it comes to money. Address the problem this week for a positive outcome. Saturday could solidify the chance meeting you had early in the week, as the two of you meet up again.
Flavour of the week: Kiwi
Capricorn (21 December — 20 January)
Your health comes into focus this week, Capricorn, and it has you energized. A conversation with a physician is likely. If you don't have a doctor's appointment scheduled, you may decide to make one. This is not because there is something wrong, rather, it is to follow up with a yearly physical or to discuss options to improve your health. Be cautious not to get roped into an infomercial on a health related program, as you could find yourself pulled to purchase one. You don't need to do this, just speak with your primary care provider. A relationship may be tested this week, and you'll need to readjust how the two of you relate. If this is a romantic relationship, you two will have a serious conversation about where you two are going. If it is a friendship, you may need to address some recent tensions. Over the weekend, a furry family member or pet may need your attention, and you'll want to make sure they don't eat something they shouldn't.
Flavour of the week: Caramel
Aquarius (21 January — 20 February)
The creative juices continue to flow this week, Aquarius, and you have a very romantic week ahead. You're prone to being more flirtatious, as well as the object of others' flirtations. As the need to express affection to others rises, it might be time to tell someone you're interested, or reaffirm your love. Also, don't be surprised if vacation or travel plans are initiated or finalized this week. A woman in your life may make contact, and that will help you uncover a secret you do not yet understand. With that, one of your own secrets may also be revealed, and you'll feel a great sense of relief about not having to hold onto it anymore. Thursday will prove to be an active day, as a child, cousin, aunt, or uncle in your life needs some guidance. Unfortunately, you may not be able to express yourself as effectively as you would like. Your job at this point is just to listen, and not give direct advice.
Flavour of the week: Mango
Pisces (21 February — 20 March)
Your home is set to be increasingly busy this week, Pisces, with boisterous conversation day in and day out. On the bright side, they are all productive and lighthearted. There is no need to worry about arguments, though some loud voices could be within earshot. A parent may need your attention, or share something important with you — expect this conversation midweek. While you're entertaining a friend, the two of you may dream about going on a vacation or adventure together. Try not to treat this idea as just talk. The two of you should and will travel together at some point this year. It's also likely you'll experience a rather intense dream or vision this week. This is the activation of your natural psychic and intuitive abilities. Take this opportunity to embrace these gifts, and you'll be rewarded with very useful insight.
Flavour of the week: Watermelon