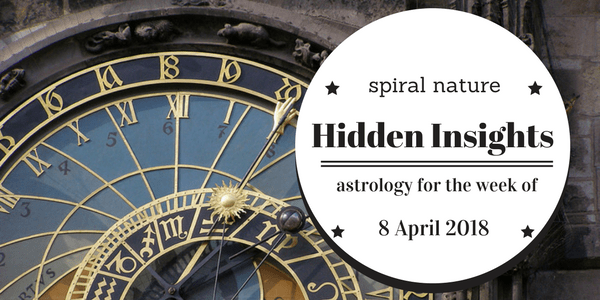 Hidden Insights couldn't be happier to share the news that it's the last week of the Mercury retrograde. Typically it's the final week that seems to be the most challenging; however, we are fortunate to have some really lovely planetary positions to soften it up. Anticipate the world feeling on edge as our reality prepares for Mercury's shift forward. For many it will feel like time has slowed, as we eagerly wait for something we can't describe. This will be most evident on Wednesday when the Sun squares Pluto, and brings our sense of anticipation to the limits of our self-control.
With Venus making aspects to Mars and Neptune, we may also feel as though love is in the air, despite Mercury. The harmony brought by Venus asks us to surrender to love and wants to embrace social cooperation. It's a great week to reach out to others and start rebuilding relationships that may have recently been put to the test. This is particularly true on Thursday as we move into Friday, as Venus and Neptune not only bring optimism, but a friendliness that couldn't be more different from last week's tensions.
Over the weekend, the second of this year's three Jupiter sextile Pluto aspects will occur. It happened first in January, and will again in September. Overall, this energy triggers abundance and asks us to accept change. Heraclitus said it best when he philosophized, "All is flux, and nothing stays still." This abundance of change will be felt on a global scale, and we may even see it trigger more social movements, particularly related to money or taboo subjects and secrets.
Astro Homework
An exercise in abundance is on the agenda this week as Jupiter sextiles Pluto on Saturday. First, think back to what may have changed in your life earlier this year. These themes are likely to repeat, and it's possible for you to solidify loose ends related to change. This weekend, take time to consider what abundance means to you, what you are willing to sacrifice for what you want, and where you see yourself succeeding. Ask Jupiter to help you manifest this change, and plan on how to achieve it between now and the next sextile in September. If used correctly, you could see a major change in your life's happiness by the end of year.
Aries (21 March — 20 April)
Let's face it, things may not have been smooth sailing lately at work,  Aries, but this week Venus lends her energy to the erratic Mars in your house of career. Tuesday brings some restored balance, and you'll be able to find a peaceful and stable place to stand, especially with supervisors. However, don't become over confident just yet, as you'll have to get through Wednesday's aspects before you can fully take a breath. Once you get through the first few days, Venus will continue to bring optimism, especially in the form of someone who will support you with any anxiety you may have been battling with. The weekend looks exciting with the potential for some unexpected money coming your way on Saturday. This is the second hit in a line of three this year that can really boost your income. Take full advantage of it to advertise a service, have a yard sale, or ask for a raise.
Patronus: Platypus
Taurus (21 April — 20 May)
This week is all about finding faith and redefining how it is part of your personal identity, Taurus. Monday and Tuesday will likely bring some deep thoughts about what is important to you, what you value in life, and most importantly, what you believe. Lately you may have been thinking a great deal about faith, god, and your place in the universe, as well as where you want to go and how you want to live your life. This is because Mars is activating that area of your chart, and Venus comes in this week to give you a clearer picture. While this occupies you, you'll also notice that everyone seems to be more friendly and engaging. Try not to be cynical, and enjoy the friendly conversation. Over the weekend, Jupiter's energy could bring a spiritual leader into your life that will help you see your purpose more clearly. You are also likely to attend or be invited to a group or event this weekend. Take some time away from the deep thinking to go out and enjoy yourself.
Patronus: White dove
Gemini (21 May — 20 June)
Early in the week you may be confronted with a few power plays at work and at home, Gemini. These are likely a return from old issues that have resurfaced. However, this time there is likely to be less drama. Those you find yourself at odds with this week may have no interest in actually arguing. Try to take full advantage of this, and find a new way to solve old conflicts with others. This weekend really gets busy with Jupiter and Mars on the move. Saturday seems to bring limitless energy to get things around the house completed that you may have been putting off. You are also likely work off a pound or two while your running around, organizing, and cleaning. Some of the power struggles from earlier in the week may resurface again, only this time it may not go as smoothly as before. This could be particularly heated if it is with a romantic partner. Try not to get into trivial power plays with one another, or you'll end up feeling isolated on Sunday.
Patronus: Rabbit
Cancer (21 June — 20 July)
A social and active week is in store for you, Cancer. Tuesday's energy brings the chance to meet with a group of individuals to work towards a common goal. However, love seems to be in the air, and you could find yourself the target of others romantic interests a few times this week. Wednesday's Sun square Pluto brings drama to your front door, so be prepared to deal with some tension at home. Of course, it's important to remember that this will only last for about 24 hours before Venus returns to restore harmony on Thursday. Your weekend kicks off with an abundance of romantic energy. If you are in a relationship, you can expect your partner to be more romantic, attentive, and passionate. For those of you who are single, you won't want to turn down a date you might be asked to go on. In terms of love, it will be like shooting fish in a barrel. So, put on your shoes, head out for the evening, and flirt with anyone who strikes your fancy.
Patronus: Peacock
Leo (21 July — 20 August)
While the rest of the world is basking in the romantic glow of Venus this week, Leo, you only have work on your mind. You're more productive than usual this week, and Tuesday could bring some really great business connections into your life. This is because Venus' charm is radiating from every fibre of your being, and you can really turn on the charm. Money and pay may also pop up at work this week, especially on Thursday. While you may not be in line for a raise or promotion, news about you or your spouse's income could feature today. Friday's mellow energy sets you up for a busier weekend ahead. Saturday will likely be filled with getting projects done. This could either be at work, or at home. Of course it doesn't matter where it happens; the point is you'll be able to really make some headway with your responsibilities.
Patronus: Elephant
Virgo (21 August — 20 September)
Your mind is in overdrive this week, Virgo, and you have so many big ideas. This optimism not only keeps you busy, but helps you stave off some of the more unpleasant feelings you've likely experienced over the past two weeks. Creative juices are flowing, and you'll be most happy if you can doing something inventive. Anticipate a conversation with a male on Tuesday who may have some exciting news. Thursday could feel a bit stressful, as you can't seem to really get into what your responsible for taking care of. You'll need to work extra hard to not slack off and do something fun. Of course if you are able to, maybe plan to take the day off of work. Over the weekend you can really spread your wings and get into something creative. This could be taking an art class, doing a craft for an upcoming event, gardening, or redecorating a room. There also seems to be some passion brewing on Saturday, so make sure you put some time aside for someone special in your life.
Patronus: Beaver
Libra (21 September — 20 October)
While you're typically the embodiment of balance and harmony, Libra, you seem to take control over an aspect of your life related to your home. It's as if the scales of balance you are so comfortable with have shift against your favour, and you want to reclaim your power. Of course, you are always diplomatic, and you can expect any conflict to have a positive outcome. Early in the week you should expect to uncover either a secret, or something you've lost at home. By Saturday Jupiter will be pushing you to get creative and rediscover how to play. It's also possible children may feature prominently over the weekend. This could manifest as spending time with children in your family, being asked to watch a child, or running into more children in public than usual. Observe how they view the world, as they can teach us a great deal about learning how to play more.
Patronus: Otter
Scorpio (21 October — 20 November)
It's time to come out of your shell this week, Scorpio. Plans with a friend or partner begin to require more of your attention, and you'll need to focus on the two of you as a unit. You'll be asked to make these plans early in the week, and Tuesday could bring more social energy than you typically like. Try to remember that talking face to face can be more important than through text messaging. The only tense day for you this week is Wednesday, when a group you belong to could try to pull you into some drama. Be on guard, and don't lend anyone money. In the final two days of the Mercury retrograde, the Pluto in your sector of travel could make the roads a little treacherous for you. This will be most evident on Saturday, so don't let aggressive drivers get you worked up. Sunday could bring the finalization of plans with a friend or partner from earlier in the week, and it's a great time to tie up loose ends.
Patronus: Squirrel
Sagittarius (21 November — 20 December)
Balancing your work and home life might be difficult this week, Sagittarius, as the lines between the two may blur. Of course, this may not be negative, as coworkers are likely to be more social and engaged than usual. Tuesday's lovely trine between Venus and Mars promises to help you make connections at work with those who share the same values as you. If you've felt a bit like a loner at work in the past, this could be your lucky week to find a colleague who you can connect with, especially on Tuesday or Thursday. Midway through the week, if you don't bring your work home, a group outing with coworkers might be in the offing. Don't be shy, reach out and be part of the team. Over the weekend, Jupiter and Pluto's powerful combination has the power to really transform your current financial situation. While this is neither good nor bad, your finances will see a change. So, if you've been struggling, you are due for some more financial freedom. If you've been enjoying financial abundance, you might want to think about restricting your spending. While we are on the topic of money, you might want to be cautious of water issues at home this weekend, particularly Saturday. Make sure you don't leave any faucets on by accident, and be careful of spills.
Patronus: Crow
Capricorn (21 December —20 January)
You've made to the home stretch of a very stressful few weeks,  Capricorn, with last week possibly feeling like the icing on the cake at times. This week you need to take some time to yourself, and even be a little self-indulgent. Venus is asking you to let loose and do things that you enjoy, instead of worrying about what others want or need you to do. Yes, you are a very responsible and practical sign, but just this once it might be healthy to completely let go. Responsibilities will always be there when you get back. Thursday and Friday will be especially important for you to spend some time self-soothing, but if you must have an important conversation this week, these will be the days to do it. The fog will lift on Thursday and allow you to express yourself with better clarity. The weekend may feel a little uncomfortable at first, but this is because something inside you is urging to change. Your friendships are on the edge of changing, as well as the way you interact with others. Expect to feel the need to purge negative influences in your life without a second thought. It's time to cut the cord in certain relationships.
Patronus: Eagle
Aquarius (21 January — 20 February)
Home becomes your haven early in the week, Aquarius, and you may spend the first few days enjoying the solitude. Sometimes it's important to remember just how important we are to ourselves, and that we can be our own best friend. However, don't anticipate this seclusion will last for long, as people from your past may pop up out of nowhere this week. Thursday may bring the need to spend some money on your home. With Neptune in play, it's difficult to say exactly what you might be spending money on. However, it seems most likely some new décor, furniture, blankets, pillows, or sheets will be on your shopping list later in the week. Try to be a little less clinical, and update some of your surroundings. If you run into a friend or flame from the past this week, you might easily find yourself spending time with them on Saturday. This is because we sometimes need to revisit the past in order to make way for a more positive future. Let yourself walk down memory lane, and try to uncover what you want to ensure never happens again, along with what you might want to resurrect.
Patronus: Groundhog
Pisces (21 February — 20 March)
Get ready for a busy week, Pisces, with very little alone time. On Tuesday, Venus brings an array of friends to your attention. Chances are your phone and social media accounts will feel like they are going to explode. This is because everyone not only wants your attention, but also your input. This theme continues through most of the week, and at one point you may even be called into mediate an argument between friends. While picking sides is not something you usually feel comfortable doing, you'll be blessed with the ability to articulate solutions to those who seek your help, particularly on Wednesday and Thursday. With so many friends surrounding you this week, you'll have no choice but to use the purging energy of the weekend to make some decisions. Jupiter is sitting in the philosophical sector of your chart, and you may find yourself making a list of people who serve your highest good, and those who you don't spiritually connect with. Luckily, some of these decisions will be easy to make, as you are more prone to being engaged in debates and discussion surrounding morality. You might even enjoy joining a debate club in the near future.
Patronus: Cheetah