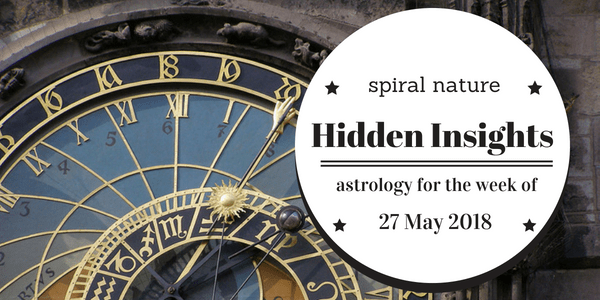 A harmonious week is in store, as Hidden Insights observes a lucky Full Moon and three glorious trines over the weekend. This breath of fresh air comes after last week's tense energy, and the electrifying shift of Uranus into Taurus. On Tuesday, Mercury moves into Gemini. Being in its favourite sign, Mercury will allow conversation and communication to flow easily and naturally over the next two weeks. This is a great time to have important conversations, and you'll be able to navigate address delicate situations with great success.
Also on Tuesday, a Full Moon in Sagittarius is observed in alignment with Antares, one of the four Royal Stars of Persia. Such an important placement of the Full Moon should make us sit up and take notice. Traditionally, the energies of this star are  riddled with danger, destruction, the falling of kings, conspiracy, and death. However, when it is illuminated by the Moon, it takes on a slightly different meaning. We can expect this Moon to inspire broader thinking, as well as power and success to those who fight for what they believe in. On the global stage, we can expect more philosophical discussions across borders, as well as an increased interest in the metaphysical sciences. Of course, we cannot fully deny the darker side of the star, and there will be many who put themselves in dangerous situations to promote or fight for what they believe in. If we consider that Mercury is also moving into Gemini, it further supports powerful and productive conversations across ideas, beliefs, and philosophies.
Friday and Saturday ooze with generous and social energies. Mercury will trine Mars, and Venus will trine both Jupiter and Neptune. The blend of these energies creates a wonderful environment for romance, and many are likely to get engaged or begin great love affairs right now. The relaxed and easygoing energy here is also ideal for travel, as it supports the travel Full Moon earlier in the week. Hotels, campgrounds, and weekend getaways are likely to book up quickly, so make your plans early, if you feeling the itch to get out of town for a day or two.
Astro Homework
This week's assignment is all about the Moon. We do not want to miss the opportunity to harness the wondrous power of Antares. Make it a point to advocate for yourself this week, and don't be afraid to push a little harder than you usually might to get what you want. This Moon can make champions, and with Uranus in Taurus, it's time seize the proverbial bull by the horns. Magically, you may want to perform spells or rituals with this Full Moon for success in business.
Aries (21 March — 20 April)
Your curiosity hits it peak this week, Aries, as Mercury moves into your house of inquiry. This is further exaggerated by the Full Moon in your ninth house. You are likely to make travel plans soon. Mercury wants you to stay active, and most of the week you'll be in high gear. While you may feel a little on edge or unable to sit still, it's only because your mind is racing with a thousand thoughts, ideas, and plans. Use this Full Moon to embrace the inevitable change on the horizon right now. The best way for you to deal with this week's energy will be to write down your thoughts and plans, so you can look at it objectively. Friday brings a phone call, email, or text message from a friend who is likely to invite you to join them in a physical activity or adventure. Enjoy a hike or other form activity over the weekend.
Disney mentor: The White Rabbit from Alice in Wonderland
Taurus (21 April — 20 May)
This week it's all about getting your budget in order, Taurus: figuring out where you can save, and how much you can spend. You may even be due to review finances with a professional. This could include a conversation with a banker, government benefits officer, financial planner, or the head of your household. No matter how it manifests, money will be a topic of many conversations this week. As the Moon illuminates your eighth house, you're also likely to feel the cosmic tides encouraging you analyze your creature comforts and what makes you feel secure in life. A large bill could be due this week, and it's highly likely you'll need to pay out a large chunk of cash. Over the weekend, you can anticipate a joyful reunion with relatives, and any family gatherings will be especially harmonious. Perhaps it's time to reach out to someone from your past and settle some outdated tensions in your relationships.
Disney mentor: Tiana from The Princess and the Frog
Gemini (21 May — 20 June)
As your ruling planet, Mercury, moves into Gemini, it's time for you to express the needs, concerns, and desires that you have been negotiating in your head. Talking about your past may also be a reoccurring theme for you this week. Even when asserting yourself, it's not always possible to get your way. You'll be called to make a compromise with someone in your life on Tuesday or Wednesday, and that will come to fruition over the weekend. Saturday's beautiful series of trines make any interaction you have with friends or a romantic partner work especially well. It's also likely that Saturday could bring an important conversation at or about work with a supervisor. A situation that may have been a little off balance or unclear has the opportunity to put your worries at ease.
Disney mentor: Mary Poppins from Mary Poppins
Cancer (21 June — 20 July)
Mentally you are turning inward this week, Cancer, and you have a great deal of information to process, think about, and generally mull over. It's time for you to consider if the decisions you've made in the past were good choices. You may feel as though you are obsessing over some very personal and private matters that may relate to your own physical and mental health. Fortunately, the lucky Full Moon gives you a boost of vitality, and while you may be spending a lot of time in your head, you are motivated to address health and wellness. On Tuesday or Wednesday, you may be forced to make a decision about your immediate environment that has been annoying you. Perhaps you need to rearrange your bedroom, deal with a difficult coworker, or change up your morning routine. The weekend is much more playful, and you are likely to spend a great deal of time out and about. You may even find yourself soaking up some Sun or relaxing in a spa.
Disney mentor: Elsa of Arendelle from Frozen
Leo (21 July — 20 August)
Most of the week, you'll be blessed with a clear, active, and alert mind that is likely to produce some really inventive ideas, Leo. Don't be surprised if occasional strokes of genius seem to hit you like a bolt of lightning. Others are sure to notice this, and will seek out your creativity to help them solve unusual problems. If you're looking to make an impression at work or with a group of people, you'll be able to do so, while being the centre of adoring attention. While being so mentally dexterous this week, you'll also be in the mood for fun, and it's likely that you'll be able to get out of some responsibilities to pursue extracurricular activities. Love and romance are also on this week's agenda, as you'll be feeling more romantic than usual. Anticipate some exciting bedroom play. Over the weekend, a much needed heart to heart is likely to occur at home, and you'll be able to resolve some doubts or worries you have been bottling up.
Disney mentor: Tinker Bell from Peter Pan
Virgo (21 August — 20 September)
You're likely to spend a great deal of time this week thinking about work, your career, and your place at work, Virgo. Not only will your mind be here, but you can also expect to have some important conversations in this area of your life as well. It's time for you to consider how and if you want to advance your career. This is a particularly auspicious time to make important business connections, as well as be a positive focus of your supervisor's attention. As the Moon turns full this week, some tensions with home and family could force you to stand your ground. Fortunately, the Moon is on your side, and anything that you fight for, you'll win. Friday will be your most important day at work, and you're likely to encounter a man who can help you make a change, if you've decided you need one.
Disney mentor: Wendy from Peter Pan
Libra (21 September — 20 October)
It's all about the bigger picture for you this week, Libra. As Mercury moves into your ninth house, you'll notice your attention is drawn away from the finer details, and mundane chores will bore you. Don't expect to get a whole lot accomplished around the house in terms of cleaning, as your mind will be racing with adventures, travel, and, of course, existential ideas. Early in the week, you are likely to encounter a friend or relative who invites you out for exotic cuisine. You love sensory experiences, so don't be shy trying about new foods. This week's Full Moon may even inspire you to study a foreign language, or encourage you to go back to school. However, with all of this lofty energy, you do need to be cautious while driving or taking public transportation. The roads are a little dangerous for you right now, and you should make sure you stay focused on what is in front of you. Over the weekend, you can expect to hear some news from work about extra training you may need.
Disney mentor: Moana from Moana
Scorpio (21 October — 20 November)
Much like Taurus, your life is filled with financial themes this week, Scorpio, especially where join finances are concerned. At some point, you will encounter the need to balance your financial power with someone else. There is a good chance this will manifest as discussion about what is yours versus what is someone else's. Right now, clear boundary lines need to be drawn. As Mercury moves into your eighth house on Tuesday, you'll start to notice an increased need to research, examine, and uncover. The weekend's energy brings a wave of harmony to your home, which may have previously seemed chaotic. You'll have the opportunity to smooth over stress, as Saturday promises to be full of cooperative play with those around you. Enjoy the opportunity to make peace.
Disney mentor: Simba from The Lion King
Sagittarius (21 November — 20 December)
Most of the week is coloured by a sudden wave of indecisiveness, Sagittarius. As a fire sign, you usually know what you want, but this week you can't seem to make a decision. It seems as though you are weighing the pros and cons of every situation. Fortunately, you won't be left alone to figure things out. The heavens reveal a partner to share your thoughts with this week who will act as a sounding board for your indecisiveness. For those of you who are single, this week could bring a very interesting person into your life that piques your interest. This couldn't come at a better time, as this month's Full Moon occurs in your sign. Here the spotlight shines on you, Sagittarius, and you have the opportunity to demand all the attention you want. Over the weekend, you can anticipate a chance encounter with an old friend. Intimacy is also highlighted this weekend, and you could find yourself in a romantic situation without even realizing it.
Disney mentor: Aladdin from Aladdin
Capricorn (21 December — 20 January)
It's time to take a break from work, responsibilities, and routines this week, Capricorn. You're feeling a strong urge to be alone, while simultaneously you want to reorganize various aspects of your life. Early in the week, you can expect to get a great deal accomplished around the home, as tasks that have previously seemed daunting now become easier to handle. Wednesday could bring the opportunity to speak to or reach out to a friend or therapist to help you sort out some feelings of anxiety. While most of the week may feel a little tense, the weekend is much more exciting. Friday brings two harmonious aspects that bring good financial news, as well as the opportunity to spend some quiet one-on-one time with someone important. Make sure you take these opportunities as they arise on Friday, as Saturday brings more active social activities. Saturday also brings the possibility to receive or sign important legal documents in your favour.
Disney mentor: Gepetto from Pinocchio
Aquarius (21 January — 20 February)
Creative juices are flowing this week, Aquarius, and you're feeling the need to play, explore, and generally have fun. Of course, you'll want to watch out that you don't have too much fun, as you're prone to a bit of mischief. Unless you play responsibly, you could find yourself in trouble by Thursday. However, don't let that dissuade you from having a good time, just be careful and exercise moderation. You may have a friend dealing with a mini crisis or break down at some point this week. If that happens, use your good mood to help them take their mind off their troubles. The weekend becomes a bit more serious, as your work or career comes into focus. Try exploring creative or innovative ways to tackle problems. You really can't go wrong with any idea right now.
Disney mentor: Dory  from Finding Nemo
Pisces (21 February — 20 March)
Your home life speeds up this week, Pisces, as Mercury brings its windy energy to your family. Expect a great deal of movement with people and family members coming and going rather quickly. While all this air energy is flying, you may  find yourself reminiscing about your childhood or the past with family members. It's possible you may attend a family reunion or gathering at some point this week as well. In these situations, you'll find yourself the centre of attention, as the Moon illuminates your house of reputation. Of course, this can be beneficial at work, too, so make the best use of this energy to impress the boss. Who knows, maybe you'll have an opportunity for growth at work before the week is out? Over the weekend, the busy energy doesn't slow down, yet it's more creative and playful. Saturday promises to be an exciting day that brings celebration, exploration, adventure, and a great deal of laughter.
Disney mentor: Dash from The Incredibles