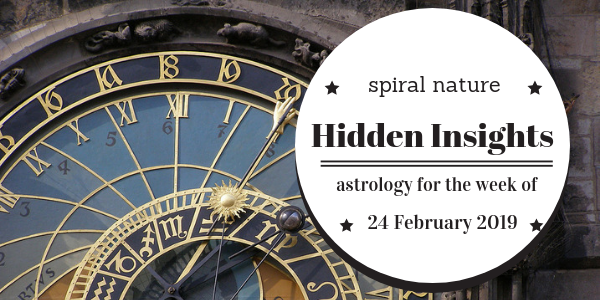 After two intense weeks, Hidden Insights is happy to announce a much calmer astrological sky. A set of harmonious sextiles promises to improve our interpersonal relationships. The week begins with Mercury forming a sextile with Venus, which wraps the Earth with warm concern for others. On Monday and Tuesday agreement will be easy, and conversations will have a cheerful tone. As Venus is still in Capricorn, this is also an excellent time for discussions related to money and investments. While this is usually a challenging topic for many, these types of conversations will flow easily.
On Wednesday the Sun makes the second sextile of the week to Mars. This aspect enhances courage, and reduces fear. It is also a time for friendly competition, where egos won't get the best of us. Even in heated discussions, participants will be conscious not to provoke or offend others. Anticipate a day filled with honest communication, a renewed sense of drive in business matters, along with the ability to receive credit for hard work.
Friday and Saturday usher in two electrifying transits. First, Venus will make an active square to Uranus. This allows people to express their eccentric sides more openly and without judgement. It also brings an urge to initiate new experiences, and many around the world will embrace the "you only live once" attitude. The challenge with this aspect is sometimes the impractical nature of its energy. Venus loves to indulge, and if it is not treated carefully with Uranus, a series of impulse purchases can spell trouble. Especially as anything purchased on Friday will likely no longer seem interesting or useful by the end of the weekend.
The second transit of the weekend is Venus' movement out of Capricorn and into Aquarius. In this sign, Venus allows the world to love in a non-judgmental way. This is a great position for those who feel like social outcasts to take the centre stage of acceptance. We can expect the next several weeks to bring a renewed focus to global acceptance of what makes each of us unique. As Venus is the planet of love, romantic relationships also shift slightly, as we move away from the practical energy towards the expansive. In Capricorn, rules within relationships became important; now freedom of expression, and experimental relationships become the focus.
Astro Homework
This week's homework assignment focuses on the shift of Venus into Aquarius. There is an element healing with this position as we move from the concrete energy of Capricorn. Aquarius energy rules acceptance and the ability to see the big picture.
Over the weekend, allow yourself to accept and forgive those who have hurt you in the past, especially if you still hold strong feelings. At its best, this energy can help alleviate the pain of obsession, which can assist those dealing with this type of preoccupation to move on.
Aries (21 March — 20 April)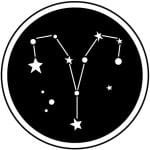 Your career and reputation take centre stage this week, Aries. On Monday and Tuesday you may find yourself listening to the problems of a supervisor or person in a position of power. The caring energy of the day allows you to be still and provide valuable insight. This encounter leads you to question your direction, and you may have a moment of exciting clarity about where you see yourself in the future. This is an excellent time to set a new course for success in the public eye in order to become recognized for your skills and accomplishments. You get a financial boost on Wednesday, as the Sun aligns with Mars, which moves through your house of money. Don't miss the opportunity to make extra money right now. Even if it's selling items around your home that you no longer find useful. The weekend brings friends into your immediate environment. Expect to be busy
socially with groups of people, and take the opportunity to join a club or organization.
Movie of the week: The Godfather
Taurus (21 April — 20 May)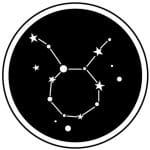 Friends are sending you a great deal of support this week, Taurus, and you are happy to hear their well wishes. Early in the week the opportunity to experience foreign food, music, or beliefs gives you a new perspective of the world. Take time to step outside of your comfort zone and experience something new. On Wednesday you may feel the need to stand your ground, especially if you have been overlooked in receiving credit for hard work. As Mars continues to move through your sign, a minor bump, cut, or injury is also possible, so be careful where you step. Friday brings a square from Venus to Uranus shortly followed by Venus changing signs. As this is your ruling planet, these aspects will be more personal for you than for the other signs. You are entering a period of increased success in business. You may even encounter someone who can help you achieve success. This will be especially true if they seem to be more eccentric than you might expect in a professional setting.
Movie of the week: The Sandlot
Gemini (21 May — 20 June)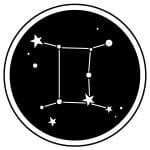 A partner or close friend's finances are highlighted early in the week, Gemini, which has the potential to be beneficial. If you are short on cash, you can expect the support of someone in your immediate circle, and they will help with an unexpected bill. This is also a great week to initiate a loan with a bank or business entity. Perhaps you've been thinking of getting a new car or applying for a personal loan? Don't hesitate this week, as you can benefit from the best terms and a greater chance of approval. On Wednesday a professional contact from your past returns, and you will be excited to reconnect. Reminisce about old times, and do your best to avoid bringing up a forgotten bet or competition. The only tension this week occurs on Friday, when a heated debate with a group of friends leaves you divided on a social or moral issue. Avoid engaging in social media drama. Over the weekend you are due to travel with or to see a woman.
Movie of the week: The Pursuit of Happiness
Cancer (21 June — 20 July)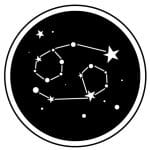 Flattery will get you everywhere this week, Cancer, and you are capable of winning over everyone you meet. Early in the week an important agreement will need to be reached between you and another person. Fortunately, you won't need to give as many concessions as the other party. However, your nurturing nature will ensure it is an agreeable arrangement for both sides. On Wednesday, Mars will be activated in your sector of group dynamics. One-on-one discussions go well this week, though if you need to work with a team at work or school you may be disappointed in not receiving the credit you believe is due to your hard work. At this time it would be best to let this go. Your time to shine will come later. Friday's exciting energy between Venus and Uranus brings an encounter with an eccentric man. Over the weekend, love is in the air when a deep connection can be made with a new person or existing partner. Take time to enjoy flirting, and don't be surprised if you are showered with affection or gifts.
Movie of the week: Love, Simon
Leo (21 July — 20 August)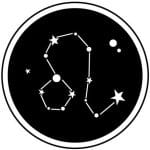 A productive and harmonious week at work is promised to the Lion. Monday brings group discussions and learning. You will be like a sponge: ready to absorb a great deal of new information that can help you perform your job better. Midweek, you have the opportunity to shine in the office with an increased desire to be noticed by others. Your ambition leads you to make a number of networking opportunities. Many Leos may also receive job offers this week, if they have been applying for new positions. Even if you are not in the market for a new job, it might not be a bad idea to take a look online to see what you might be qualified for. Over the weekend Venus moves into your house of partnerships, blessing your closest relationships with harmony and affection. Expect to reignite the passion in an existing relationship or beginning a new romance over the next several weeks.
Movie of the week: Mama Mia!
Virgo (21 August — 20 September)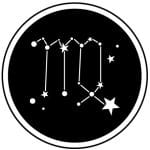 This week both Mercury and the Sun are making aspects for your house of partnerships, Virgo, which leads you to be the centre of others' care and support. Monday and Tuesday promise playful and surprising conversations and jokes to help lift your spirits and brighten your mood. Expect boisterous belly laughs. If you have children, they will also contribute to the source of your amusement. On Wednesday, a shift towards dreaming big strikes your imagination, and you feel the need to initiate a new and exciting project that allows you to express yourself artistically. Wednesday and Thursday also bring legal success and blessings, and you may find yourself looking up specific regulations, codes, or laws that can benefit you. Friday brings mild financial tension as it relates to debt or a bill. It would be best not to stress, and allow the universe to provide support as needed. Over the weekend, Venus brings joy to your sector of health, and you can expect a boost in your physical vitality. As you're feeling energized, you may begin a new exercise program, or decide to take on the responsibility of a new pet. Don't discount either right now.
Movie of the week: Some Like it Hot
Libra (21 September — 20 October)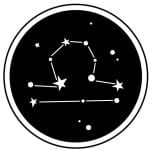 Have you ever considered a side business working from home, Libra? If so, you are in luck, as this week brings the opportunity to make money where you live. Of course, if you already work from home, you can expect a wave of financial luck. Particularly if you depend on customer orders for your income. Midweek you can anticipate a boost to your libido, and you will easily find yourself exploring a new side to how you approach intimacy and sexual practice. Explore something new with a trusted partner or even solo. You will be surprised to uncover what you like. An odd sensation is in the air at home on Friday. Someone you share your living space with or a visitor may appear to behave in an unusual or erratic way. Remove yourself from the need to be in perfect balance and join in on the fun of perfectly unusual behaviour. Over the weekend, Venus moves into your sector of creativity and leisure. You are entering a period where you ruling planet is asking you to take a step back and enjoy what gives you pleasure. Don't turn down any invitations and dance the night away at a party without feeling guilty.
Movie of the week: Ferris Bueller's Day Off
Scorpio (21 October — 20 November)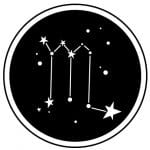 Your imagination is on fire this week, Scorpio, as an optimistic mindset lets you feel as though you can accomplish anything. Early in the week, you may even decide to take this exciting energy and invest in a creative project. On Wednesday it will become clear that a project you are working on will require help from an outside source. As much as it pains you to ask for help, you need to admit that an occasional helping hand is necessary. However, you need to be cautious how you ask, as your tone may come across as arrogant or aggressive. Friday's square between Venus and Uranus brings a sharp hit to your vocal cords, which can produce a sore throat. Take time to have an extra cup of tea and avoid lengthy conversations. As Venus moves into your fourth house over the weekend, you can expect a calm and harmonious environment at home.
Movie of the week: Young Frankenstein
Sagittarius (21 November — 20 December)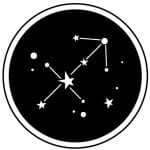 Extra income blesses your pocket this week, Sagittarius, as Mercury and Venus give you a financial boost. This may come in the form of a bonus, raffle, lottery win, or a refund. As with any unexpected money, you should have fun with it. Treat yourself to a nice meal or new pillows for your bed. Also this week, you get a much needed boost of energy at work. You are on top of your game, and Wednesday brings the ability to take charge of your professional destiny. While you may find it difficult to work with others right now, alone you can accomplish greatness. Over the weekend, a conversation will have you excited to share ideas. Expect to meet a new friend or rekindle a friendship with an old pal.
Movie of the week: Catch Me If You Can
Capricorn (21 December — 20 January)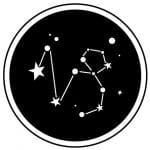 Most of this week is focused what makes you happy, Capricorn. More specifically, you want to indulge in relaxing. On Tuesday, others will find your charm impossible to resist, and this is a great day to strike up a romance or flirt. Passion continues to rise through the week, as the Sun illuminates Mars in your fifth house. This energy is likely to manifest as an intense romantic encounter, even if it's only in your imagination. Children also come into focus under this transit, and the need to care for or attend to those younger than you can present itself. If you have no children, the passion of the week can easily produce offspring and is a great time to get pregnant. Over the weekend Venus moves into your house of money and values. The desire to spend money and acquire beautiful things rules on Saturday. You could easily blow your budget right now, despite being such a practical sign.
Movie of the week: Amelie
Aquarius (21 January — 20 February)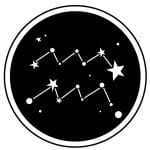 Are you good at keeping secrets, Aquarius? The Universe certainly thinks so, as you are due to here a number of juicy stories that others hope you won't share. Monday brings someone from your past into your immediate environment, and their reason may surprise you. If it is someone you had once had a falling out with, do your best to listen to what they have to say. On Wednesday a project at home will need your attention, and you may have to take control of a difficult situation between family members. As this is set to focus on a financial argument, it would be best if you keep your thoughts to yourself, and focus instead on helping the two parties find common ground. The big event this week is Venus moving into your sign. Over the weekend and the next several weeks, you can more easily turn your focus towards yourself. This is a great time to invest in a new wardrobe, beauty regime, or makeover. Let loose and enjoy the finer things. Others will be more inclined to treat you to meals and surprise gifts.
Movie of the week: Spirited Away
Pisces (21 February — 20 March)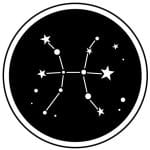 A very social week is promised for the fish, as friend and groups are trying to gain your attention, Pisces. The week begins with a series of phone calls or messages to and from your friends. Mercury and Venus want you to get involved in party planning, and you may be asked to help plan an event. This will be a great way for you to show how your creative intuition can be used in productive ways. Do your best to stay focused on Wednesday, as you may feel you are being pulled into several directions at once. It might be necessary to enlist the aid of a friend to keep you organized. They can also talk you down as you begin to feel impatient at how slow the rest of the world seems to move around you. The chaos finally calms down on Friday as Venus moves into your 12th house. Here she can rest, and you will have the opportunity to focus on yourself instead of others. On Saturday, you may encounter a friend who doesn't get the message that you want to be left alone right now. You may want to put your phone on do-not-disturb.
Movie of the week: Two Weeks Notice