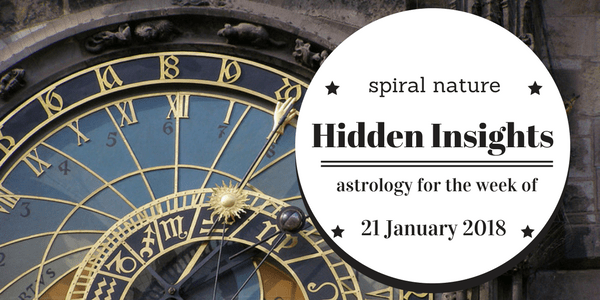 Welcome back Hidden Insights, fans!
This week is all about questions and answers, as Mercury features prominently in the sky. Early in the week, many of us may feel overwhelmed with second guessing decisions, conversations, and, at times, life choices. These internal feelings help activate Mercury on Wednesday and Thursday. Mercury first makes a conjunction to Pluto, which inspires seemingly uncontrollable curiosity. Much like bloodhound, expect to feel as though you need to ferret out information from others. Secrets may also feature prominently mid-week as a drive for the truth pushes us to research. Mercury then makes a lovely sextile to Jupiter, where the mind is activated to fight for the truth, and it's possible that the digging done early in the week could start to surface in our interactions with others. On the global stage and in Hollywood, we could hear about a truly shocking scandal by the weekend.
Mars also changes signs this week, and on Friday it moves from stable Capricorn into philosophical Sagittarius. Mars is the active warrior energy, and when expressed in Sagittarius, we can quickly become restless and need adventure. We are likely to see a spike in travel, which is great news for airlines and hotels. Over the next few weeks everyone should be cautious about going on any adventures, even minor ones in local woods, parks, or lakes. The confidence of Mars mixed with the independence of Sagittarius can be a dangerous combination to those who are not seasoned hikers, climbers, and swimmers. If you are feeling like going out to explore, ask a few friends to go along with you. Many of us will feel like getting out, so you shouldn't have difficulty finding companions to join in your exploration.
Astro Homework
In order to best utilize the power of Mercury this week, make sure you put some time aside to do some research. While it doesn't matter what precisely you research, the point is to exercise those digging skills. Chances are that this weekend we may start to experience thoughts of grandeur related to ideas or projects. So, take what you have been uncovering as a talent over the last few weeks, and research a solid course of action, so you don't set your sights too high when Mars moves into Sagittarius.
Aries (21 March — 20 April)
This week's curiosity and focus falls on those in positions of power over you, Aries. This can range from a parent to an employer. As Mercury makes its move this week, you'll not only have the energy to uncover some hidden truth about these individuals, but you'll be able to utilize it to your advantage. It is said that knowledge is power, and you have the chance to gain the upper hand. It's also possible you will receive some news about money that is owed to you. This comes into clearest focus on Thursday, so keep an eye out for a booster shot to your financial situation. Mars is your ruling planet, so when it changes signs, you above all others feel its effects the strongest. As it moves into a fire sign, it invigorates your sense of identity, and boosts your stamina. Over the next few weeks, watch as you may be called to fight for what you believe is right as Mars passes through your house of morality, justice, and legal affairs. Just try not to exaggerate your stance or point of view on a subject, as you may be inclined to drawing untrue conclusions.
Weather event: Gale force winds
Taurus (21 April — 20 May)
You may find that early this week you seem to question everything you do at work. You're a stable sign, Taurus, so there's no need to question your ability to do your job. If necessary, have someone check your work. However, I'm certain you won't need to. By midweek, you may feel the onset of a mini existential crisis as your focus turns towards some more metaphysical dilemmas. While it's always a fun exercise to read up on different philosophies, you will want to steer clear of anything that could cause you to question your own reality. That's a rabbit hole you should avoid at all costs this week. As Mars moves in to Sagittarius on Friday, your sex drive is stimulated along with your sensitivity towards the needs of others. Don't be surprised if this weekend you are emotionally moved by someone's story, film, or song.
Weather event: Monsoon
Gemini (21 May — 20 June)
It is possible you may spend time thinking about your own mortality this week, Gemini, and start to wonder about the mysteries of life and death. This is due to a potential trauma from your past surfacing in a healthy way that will allow you to do some healing. Your health is also likely to feature this week, and you may find yourself looking for ways to preserve youth, reinvigorate your metabolism, or deal with healing a part of your body that may have been giving you some trouble. While this all may seem (and even) feel a bid morbid, it's a natural part of the human experience, and it's just your turn to deal with some of these aspects of life. As a Gemini, try starting a conversation to lessen some of the taboo surrounding these themes. Later in the week, good news at work could brighten your day, and give you a bit of a breather from some of the heavy topics. As Mars moves into Sagittarius this weekend, your interpersonal relationships are put to the test. Here, some ego issues may surface and you'll need to sort out how to find a balance of power. Remember, your strongest skill is communication, so use it to your advantage. Just try not to fly off the handle or come across as condescending.
Weather event: Dust storm
Cancer (21 June — 20 July)
You know, Cancer, sometimes as hard as we try, it's just impossible to truly understand others. This week is highlighted by uncovering the motives and nature of those around you. Naturally empathic, you may be able to feel the emotions of someone, but their line of thinking often escapes you. Now you have the chance to tap into that elusive aspect. For those of you who are in romantic relationships, this week could bring the urge to snoop through your partner's belongings. Do your best to resist. Instead, try talking to your partner to learn more about them, or ask them directly what it is you want know. Chances are they will be more inclined to share a secret with you than they may usually be. As Mars changes signs, it moves into your house of health and daily routines. This is a fantastic position for productivity, and this weekend you'll be more ambitious and full of energy than usual. Take advantage of this over the next few weeks, and check off some of the more difficult projects or chores you've been putting off.
Weather event: Heat wave
Leo (21 July — 20 August)
The week starts off with some thoughts of how to fully balance your work and love life, Leo. You're inclined to question if you spend enough time with your significant other, or if work is getting in the way. While this will be a fleeting thought, you may not want to ignore it completely, and make time to have a talk with yourself about how you balance the two. This week you'll be more inclined to contracting illness from others, so you'll want to be armed with plenty of antibacterial sanitizing products. You'll want to be particularly mindful of being around those who are sick on Wednesday, as this is likely the day you may contract a cold. If you haven't taken the necessary precautions, anticipate spending most of Thursday tending to your own needs. However, you may want to unplug from the outside world if this is the case, because others will feel the need to be in constant contact. As Mars moves into your house of leisure this weekend, you may find a need to get away and spend time on activities or hobbies that interest you. This will last for a few weeks, so you'll want to pace yourself, as you're likely not have as much self-control as you typically do.
Weather event: Flash flood
Virgo (21 August — 20 September)
The beginning of the week for you is rather introspective, Virgo — particularly when it comes to your own mental health. Fortunately, you're not likely to question yourself too long, and you'll spend much of Wednesday and Thursday doing some undercover work in order to get to the truth of a situation. It is said that curiosity killed the cat, so you'll want to make sure you are ready to deal with some of your own skeletons before exposing those of others. This weekend Mars changes signs and begins to spend time in your house of hearth and home. It's time to take a leadership role in this area of your life, and you're likely to be called into a position where you must guide your family. With that, Mars here can also bring some conflict to the home front, and you'll want to be cautious not to come off as too overbearing right now. Over the weekend you can anticipate a romantic gesture, so be sure to get ready for a nice distraction from the chaos.
Weather event: Hail storm
Libra (21 September — 20 October)
Your home will be your own sanctuary this week, Libra, as you look to find creative ways turn your living space into a piece of paradise. By getting creative you can turn your bathroom into a spa, a spare room or corner into a meditation zone, or even your kitchen's windowsill into a mindfulness altar. As you feel the itch to dig around the home, it is highly likely you will come across something that has gone missing. Or perhaps you didn't know it was missing at all. But there it is. If you are a Libra in the process of purchasing real estate, this week could be when you make the deal, or sign a lease if you rent. You'll be glad you glad you made space to retreat this weekend as you may feel a bit scattered and restless. If you must go out this weekend, remember to exercise patience whenever possible. No one will be moving or going fast enough for you, and you'll be more inclined to lose your temper and feel like fighting.
Weather event: Lightning storm.
Scorpio (21 October — 20 November)       
A domestic argument early in the week could make you question your own motives for aggression, Scorpio. Perhaps you were too harsh on someone. On that note, you'll need to make sure you are true to your words this week, Scorpio. Others are going to be more likely to take what you say to heart, and you'll be able to influence others with your words. At some point this week, someone will come to you with what may be enticing and juicy gossip, but you should do yourself a favour and refrain from listening to it. Ask yourself if what you heard is useful and true. If you can't be sure, you'll want to just forget it. As Mars moves into your second house this weekend, you can anticipate an opportunity to make some money on the side. Just don't get caught up in thinking you need to earn money to make an impression on others. These types of thoughts may creep into your head. While you can certainly make more money right now, you also need to be cautious about extravagant and impulsive spending. Maybe it would be a wise idea to let someone hold onto your credit cards for a while.
Weather event: Fog
Sagittarius (21 November — 20 December)
This week calls you to reexamine how you define security in your life, Sagittarius. Is it money, others, or protective charms around your windows? No matter how you define your own sense of security, it may be questioned this week. This is not something to worry about, just make some slight adjustments. At some point this week, the stars have scheduled a call from a friend you have not heard from in a while. If you had been on edge recently about how they were doing, you'll now be able to connect. This weekend starts the beginning of a very exciting time for you as Mars moves into your sign. You'll be blessed with a new sense of confidence, strength and pride. While this can feel really exciting, you'll want to make sure you don't run others over with your enthusiasm. This fierce and magnetic energy also has the potential to give a boost to your romantic life, so get out there and play the field if you're single. For those of you already involved, this weekend could quickly escalate into a fireball of passion.
Weather event: Tornado
Capricorn (21 December —20 January)
Financial concerns may seem to pop into your head more than usual this week, as you may obsess over your budget or investments. Try not to worry, Capricorn; you always find a financial way through, and you're cleverer than most when it comes to your money. This week's investigative energy shines its magnifying glass onto your own reflection. Where others are digging for information about others, ideas, and events, you'll be digging for information about yourself. In the process, it's possible you'll uncover something exciting you never knew. This is a great time to ask family about your childhood or family tree. As Mars moves into Sagittarius, it finds rest in your house of reflection and meditation. However, this can often signal insomnia, so you will want to make sure you expend enough physical energy during the day.
Weather event: The calm before the storm
Aquarius (21 January — 20 February)     
Happy birthday, Aquarius! The Sun is in your sector of the heavens and brings with it the possibilities for new beginnings. This week you can anticipate some contemplation on your current direction in life. While the sun is in your sign it makes an awkward aspect to Saturn in your 12th house. This can bring some fairly interesting revelations about our past. One of the best ways to start a new cycle is to clear out our personal baggage. Some of this baggage is likely related to either past or current relationships. If you find yourself asking yourself where the spark and magick is, you may want to consider the role this person plays in your life. Your work also makes an appearance this Thursday, when a message from a supervisor is likely to be a welcome surprise. Over the weekend there is a great deal of busy energy around you, but please be cautious of speeding. As Mars changes signs this weekend, it illuminates your 11th house. This brings energy and drive to humanitarian and group activities. While you are often independent, now could be the time for you to get involved in some type of community work or social club. You also want to monitor your schedule very carefully this week, as you may overbook yourself. Enjoy having tons of plans.
Weather event: Hurricane
Pisces (21 February —20 March)
This week promises to be very social for yo,u Pisces, as you will be spending much of your time in service to others. However, there is likely a group dynamic that needs your attention before it gets completely out of control. This is particularly important if someone or a group hit your ego last week. Thursday promises to be particularly important, as you will be in contact with a spiritual leader who can help you work through some of the tension. What they will likely tell you is that what others think or say about you is their own to bear, and not something you should worry about. As Mars changes signs this weekend it illuminates your 10th house, which can bring your career into focus. It may seem to demand more of you than you want to give, or you could end up in a disagreement with a superior. What you need to be excited about is the vast amount of energy you'll be able to pour into your work, which is likely to reap some very lucrative rewards.
Weather event: Drought