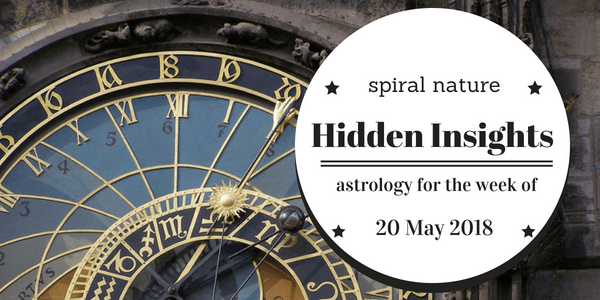 Hidden Insights hopes that everyone is beginning to settle down from last week's intense shift of Uranus in Taurus, after its demands that we are pushed out of our comfort zones. A number of you may have already received some shocking news that shook your sense of stability. Others may have to wait a few months for this to happen. While growth is rarely comfortable, it's often for the best. So, try to keep a positive attitude in the face of change.
This week is another busy week in astrology, as Mercury will make several aspects to a number of planets, and the Sun changes signs and aspects Mars, along with Jupiter and Venus making some interesting contacts. Early in the week, the Mercury energy may feel like a whirlwind of excitement, particularly on Tuesday and Wednesday. Try to remember that many people will speak without thinking, and talking more than usual. It is important to try and restrain our words this week, and give them careful consideration before we speak. It's highly likely that words will get more people in trouble than out of it.
The weekend brings an exciting Jupiter trine to Neptune, which is naturally dreamy, optimistic, compassionate, and generally lucky. Expect most of Friday to be filled with wonderful energy, as our society gets a boost of positive vibes. On a more somber note, Saturday also brings a Venus opposition to Saturn. This usually tests our relationships, self-esteem, and our finances. Fortunately, Jupiter with Neptune should soften this aspect, but we should still be aware that despite good intentions, there may be some tension with partners.
Astro Homework
Jupiter trine Neptune is the most powerful transit of the week, and this is what Hidden Insights would like you to focus on. Along with promoting optimism, this aspect can help us seek out new and meaningful spiritual, psychic, and magical experiences. Spend time doing research on local events, groups, festivals, and gatherings. Make plans to try some of them out. If this is something you already do, then see if there are other venues or groups you might find interesting to experience.
Aries (21 March — 20 April)
It's all about money for you this week, Aries, as Mercury seems to be bringing this topic back into your consciousness over and over again. Early in the week, you may be surprised to find out that you have not calculated your budget correctly. For good measure, make sure you monitor your accounts and spending closely. News from a friend who is experiencing car or transportation trouble could come your way on Wednesday, and you may be asked to lend a ride or assistance. Friday could bring a serious conversation from a supervisor, authority figure, or parent who has some news to share, and chances are that this will concern money. The weekend turns your house into your work environment, and you'll likely spend a great deal of your Saturday taking care of responsibilities.
Power colour: Emerald Green
Taurus (21 April — 20 May)
While the last month was all about you, Taurus, the party isn't over just yet. Early in the week, you can anticipate a flurry of social invitations and people in your life inviting you along to small gatherings and events. If you're in a relationship, then Wednesday could mark and important conversation about your future together. For those of you who are single, don't be surprised if you catch someone's eye, or receive an advance from an admirer. The weekend continues to produce social energy, and while most people have parties on Saturday, you'll be more likely to attend one on Friday. The rest of the weekend will be best spent relaxing, as your physical, emotional, and spiritual body will need to rest. While it's not going to manifest as an illness, you'll need to recharge your batteries after such a busy week.
Power colour: Violet
Gemini (21 May — 20 June)
It's the season of the twins, Gemini, as the Sun moves into your sign. Enjoy the warmth of the Sun's energy both literally and spiritually. This will help fight off any bouts of depression that may be lingering from earlier in the year. As it is your ruling sign that is so busy this week, you can anticipate feeling a sense of urgency. Others signs certainly feel this, but as a Gemini, you'll feel it more intensely. Tuesday brings to light the revelation of a secret at work, and Wednesday could test your ability to keep that secret. Friday's unusual combination of energy promises to bring good financial news your way, and favours from coworkers and supervisors, if you've watched your words during the week. Saturday could bring a challenging lesson related to intimacy, and you may need to have a serious conversation about your sexuality or sexual activities with a partner.
Power colour: Light brown
Cancer (21 June — 20 July)
Friends seem to be coming out of the woodwork this week, Cancer. Mercury is active in your sector of friends and groups, which really makes this an exciting time. Early in the week, you may have a philosophical or metaphysical debate with a friend. Wednesday's very active energy brings the possibility of making a vacation plan with friends, as Mercury activates Jupiter in your sector of leisure, creativity, gambling, and children. So, if you are a Cancer with children, you can expect to hear about or meet one of your child's love interests. Perhaps you'll hear that your child is dating someone. The weekend brings news of an engagement, and one of your friends could ask you to help plan a wedding. Saturday brings romantic tension into your life, so if you are in a relationship, it will be tested this weekend. For those of you who are single, you may find out that someone you've been interested in is not available.
Power colour: Dark purple
Leo (21 July — 20 August)
Changes at work could feel a bit uncomfortable this week, Leo, at least at first. However, there is a strong possibility that a bonus or raise in the near future from a supervisor. On Wednesday, you may have the opportunity or unfortunate need to take some work home with you. Keep your nose to the grindstone, as it will look great when the raise does come. Work continues to be your primary focus for the rest of the week, and Friday will likely bring a more pleasant change or transition at work than the one earlier in the week. Over the weekend, you'll need to invest in some repairs or updates at home, so try not to spend too much during the week, that way you'll be able to address these financial needs. Saturday's challenging Venus opposition to Saturn may bring some much needed changes to your daily routine, and your health may be tested over the weekend.
Power colour: Forrest Green
Virgo (21 August — 20 September)
It may be time to consider planning a getaway for you and a close friend or spouse, Virgo. If this is something you've been thinking about, Tuesday will be the best time to bring it up. Wednesday and Thursday are likely to be the most eventful days for you, as work and responsibilities will have you pulled in an endless array of directions. You may also receive some surprisingly positive news from a supervisor this week, and that will help reinvigorate your productivity, and desire to go to work. We all need a little boost at work sometimes, and it's your turn to benefit. The weekend brings a return to a conversation you may have had about travel with someone in your life. As Jupiter and Neptune trine on Friday, it will trigger some action related to that earlier conversation, and you may have the opportunity to make the actual plans. Saturday's tension between Venus and Saturn may make it difficult for you to decide between doing something you really enjoy, or doing something for a friend or group.
Power colour: Light blue
Libra (21 September — 20 October)
This week's Mercury energy will surround gossip and secrets, Libra. You may even need to call on a friend to repay a debt. While this can cause conflict for many, you'll notice it goes over fairly well. As money continues to be a theme, you may also find that you're called to put some of your savings into bills you that have neglected. Wednesday brings a huge boost of physical energy, and you're likely to spend more time on your feet, or even at the gym. If you share a living space with someone, Friday will bring about the need for you to ask a favour, especially if work has you so busy you don't have much time to spend taking care of domestic responsibilities. The rest of the weekend continues to focus on responsibilities related to work, which is why you may have needed to ask for that favour on Friday in the first place. You'll want to do your best not to overwork yourself, as becoming overwhelmed could lead to some intense migraines.
Power colour: Pale pink
Scorpio (21 October — 20 November)
Your relationships are tested this week, Scorpio, and early on you may notice that those you have your most intimate conversations with are having a hard time understanding you. This is particularly true Tuesday and Wednesday. So, if you have to have an important conversation, maybe let it wait until at least Thursday. Wednesday also brings intense energy into your home, and you may find that you can't seem to sit still. This will be a great time to get things done that you have been putting off. While most of us want to relax after work, you will hit your front door running. Be aware though that you may also have some trouble sleeping Wednesday evening. You'll want to have a plan in place if you can't sleep. Friday bring some exciting news from a friend or spouse who may suggest the two of you take a day trip  over the weekend. Given the positions of Venus and Saturn on Saturday, it would be an excellent idea to get away on short trip.
Power colour: Dark yellow
Sagittarius (21 November — 20 December)
A pet could feature prominently this week, Sagittarius, if you have a companion from the animal kingdom. Expect them to be a bit more excitable than usual, and be prepared to spend more time entertaining them, or they might get into trouble. For those of you who do not have a pet, you may have the opportunity to adopt or rescue one. The stars are right to add to your family with a furry, feathery, or scaly friend. Wednesday brings the potential for an unexpected date night. Friday will be your busiest day, as a coworker may come to you for financial advice or assistance. Of course, this could easily manifest as the need to spend money on a pet as well. Keep an eye out for how this energy will play out. The weekend brings some financial strain, and the possibly of a difficult lesson regarding your spending, savings, or budgeting. You'll want to keep an extra careful eye on how much money you spend this week, or you could be in some difficulty come Saturday.
Power colour: Magenta
Capricorn (21 December — 20 January)
You get the opportunity to play this week, Capricorn, and your creative side is flowing. The first few days of the week promise to be filled with ideas on how to expand your garden, work on carvings, a painting, or even baking. Allow yourself the opportunity to explore colour and your senses like a child. This will help keep a healthy perspective about what is important, because Wednesday could bring some unexpected expenses to your home. Of course, this could easily be transformed into spending money on creative ventures within your home. A friend or romantic partner comes into focus on Friday, and you two are likely to spend time exploring, shopping, and generally hitting the town. Use this time to get to know each other a little better, because some tension between the two of you could surface on Saturday.
Power colour: Orange
Aquarius (21 January — 20 February)
This week's winds of change are testing what you value in life, Aquarius, and the first few days may preoccupy you with  mental cleaning. If it feels like your spending too much time in your head, you may be right. Try to remember that just because you think something, it doesn't necessarily make it true. By Wednesday, you may even begin to question if your current work environment is best for you. Fortunately, a supervisor will help settle some of your anxieties. While doing so, you may even be recognized or rewarded for the hard work you have been doing. No one has been fighting as hard for success as you have, and standing your ground will be rewarded. While you've been wrestling mentally most of the week, Friday will bring a powerful revelation about forgiveness. It may be time to let another person's emotional baggage go, as it's not your responsibility to carry it. Saturday should be much more pleasant, as the Venus opposing Saturn will resolve self-esteem issues.
Power colour: Mint green
Pisces (21 February — 20 March)
There's not much rest for you this week, Pisces, as Mercury sends its energy from your third house of running errands and mental flexibility. You'll notice that most of the week, you're running from one appointment or task to another, with little time to regroup. While this may feel a bit uncomfortable for your naturally fluid nature, Neptune steps in to help give you a boost of intuitive confidence. Wednesday could bring some conflict to your home, as you may be forced to revisit an old wound. Use this time to settle the issue once and for all, so that it doesn't consume you. While you are likely to attend an event on Friday, you may want to make sure you go with a strong group of friends, as it is likely to be an intense experience. However, you will want to be careful about how hard you may party on Friday. It's likely that actions made on this day could bring drama to your life on Saturday, particularly within your circle of friends.
Power colour: Azure