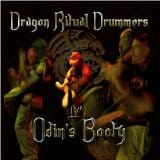 Odin's Booty Live
, by The Dragon Ritual Drummers
CD: Labyrinth House Publishing, B001P810JG, 2009
This CD consists of five live performances by a group which never fails to stir their listeners. If you can hear these guys perform and not feel your pulse rate go up, check into the nearest morgue – you're dead.
After a compilation of introductions they move immediately into a performance in Salem, Massachusetts on Halloween night. Although I did not attend the performance, it was easy to envision the crowd and their reactions to the raw energy generated by this amazing group. You can easily hear the enthusiastic responses to their performance both during and after this set.
One of the things I really like about live recordings is the sheer unpredictability of people's reactions – that, and how the crowd's reactions affect the performers themselves. No two live performances are ever the same.
The second track was recorded in Connecticut and "shows" a slightly more subdued, although no less enthusiastic crowd
From Connecticut we journey to Ontario (the home turf of this group). Once more you can feel the energy level spike – both from the crown and from the guys. It is easy to sense their comfort with the "home town" crowd. This is the shortest track, lasting a mere four minutes or so.
We move on to New York – and what says "New York" more than a short Italian song (?) and an invitation for Kenny Klein to join them on stage. Kenny brings a very different feel, but no less energy. This was the first time The Drummers and Kenny performed together and I, personally, hope it is the opening needed for further collaborations.
The final track comes back to New England, and is a nice rousing (rowdy?) end to a thoroughly enjoyable album
If you like drumming, you will love this CD. If you're not sure about a drumming CD, this is the one to start your experience.