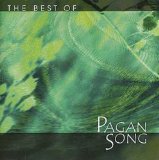 The Best of Pagan Song
, by Serpentine Music
CD: 0247710042, 2004
My 23 year-old daughter and I have many differing opinions, and we often agree to disagree on things, but as soon as she saw this CD, she asked if she could give it a spin on her player. Looking over the play-list she cheered the inclusion of "Burning Times" (Charlie Murphy), "We Won't Wait Any Longer" (Gwydion Pendderwen), "Christians and Pagans" (Dar Williams), and "Magick" (Gypsy). Then she started reading the liner notes and discovered that "Every Woman Born" (Ruth Barrett) was written in honor of my daughter's Fairy Goddess Mother's (Z. Budapest) 40th birthday. Needless to say, that made her day. [See her impressions attached to the end of my review]
The hour's worth of music on this disc runs the gamut from irreverent to deeply moving (kind of like the spread from Discordians to family traditions). As such, it is a great metaphor for the Pagan movement in its entirety.
Although there are some songs and artists I am unfamiliar with, many of them are old favorites I have worn out copies of tapes and LPs with, and by, some of them. I have, as a result of listening to these wonderful songs revised and expanded my "wish list" of albums to add to my collection.
I have to agree with my daughter's comments and evaluation. I must say I look forward to exploring the catalog of Serpentine Music. I am sure I will find more treasures waiting to be discovered.
Sheri's Comments: A magnificent compilation for ritual, parties, or even a teaching tool. Old timers like me will find this a wonderful reminder of why we have come this way and why we've stayed. Newbies who may not be aware of our universal presence in the arts will most likely find themselves inspired to pick up the standard. All said, it's just an incredible album. Whether you've been an initiate for 30 years or a student for three months, "The Best of Pagan Song" affects all that connects to the self, the Mighty Ones, and to the universal Pagan community we can all achieve if we believe in ourselves, each other, and the Lord and the Lady.