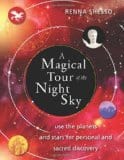 A Magical Tour of the Night Sky: Use the Planets and Stars for Personal and Sacred Discovery, by Renna Shesso
Weiser, 9781578634958, 261 pp., 2011
A Magical Tour of the Night Sky is a pretty unique book. Despite the title, sub-title , and even some of the back cover this is not a book about astrology; it is a book about the sky, and our selves. While astrology does come up, there is some discussion of signs and planets and what they mean in astrology but it isn't about astrology really, there are no mentions of personality traits, predictions, or matching Sun signs with one another. Instead this book focuses on the mythology, and the astronomy, the latter making it an especially interesting book.
Each chapter – starting with the Pole Star, to the Zodiac, then out through the planets – has Shesso weaving together mythology and history from various cultures, most notably Greco-Roman, Norse, Egyptian, and Babylonian. The reader is given a sense of the spiritual importance placed on the planets, as well as seeing how these views permeated the cultures and show up in everything from basket weaving to architecture. Though occasionally the links feel like a bit of a stretch, and some are just incorrect (the etymology of Yule and the history of term Summerland for instance) overall they're sound and intriguing. She also then explains some of the astronomy behind the planets, and that's the section that is probably most useful to a magickal practitioner. To generalize most Pagans (like most people in general in modern Western culture) can't look at the Moon and say if it is waxing or waning, but Shesso explains simple ways to tell just that. She explains how the orbits and motions of Mercury and Venus function, the appearance of the morning/evening star, and interesting mathematical and astronomical facts about each, such as how Venus' solar conjunctions slowly trace a pentagram in the sky. The ability to locate and understand the movements of the planets is a great step in being able to use them more efficiently. Continue reading →