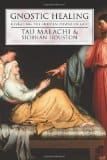 Gnostic Healing: Revealing the Hidden Power of God, by Tau Malachi and Siobhan Houston.
Llewellyn, 9780738719832, 178 pp. (incl. appendices), 2010
Most of us are familiar with systems of energy healing such as Reiki, or magickal healing of various traditions, but is there a parallel in Christianity? That's what
Gnostic Healing
sets out to teach and explore. Over all I was impressed by this book and the teachings, but several parts of the book left me annoyed. I'll voice several of my complaints before moving into why I enjoyed this book."The Sophian lineage has been, up until the last few years, a wholly oral tradition, which probably had its origins around the seventeenth century as part of the 'Rosicrucian Enlightenment.'" Nowhere in the introduction or the rest of text do the authors offer any proof for what to me is a rather incredulous claim of an unknown oral lineage of spiritual healers surviving for a few hundred years under the radar, and we'll see later why this is even more unlikely. Personally I think the content of the book is good enough that it doesn't need a mythic history to give it credibility.
Read More