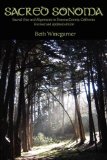 Sacred Sonoma: Sacred Sites and Alignments in Sonoma County, California, by Beth Winegarner
Kirin Books, 9781430320678, 180 pp. (incl. acknowledgements and bibliography), 2007
In the interest of full disclosure I should preface this review by noting that I've known Beth online for a number of years, though we've never met in person. This is the first book I've read of hers, though she has published several books, including two novels,
Dream Brother
and
Beloved
, and a collection of essays on music titled,
Read the Music
and several published poems and short stories in various literary magazines. I was thrilled when she asked me to review her latest, Sacred Sonoma, detailing her exploration of the ley lines and energetic sites in Sonoma County.
Read More