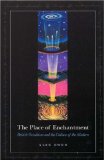 The Place of Enchantment: British Occultism and the Culture of the Modern, by Alex Owen
University of Chicago Press, 9780226642048, 355 pp. (incl. notes, bibliography and index), 2004
Alex Owen is a social and cultural historian who specializes in nineteenth and twentieth century Britain. Owen defines the "place of enchantment" as spanning "the period between 1880 and 1914, those crucial 'hinge' years during which reference to 'the modern' and 'we moderns' took on a new and urgent meaning."
The Place of Enchantment
, Owen's second book, looks at the social and cultural effects occultism in Britain during this period -- a theme not much explored by scholars.Owen writes that "[a]lthough historians are certainly aware of the new 'spiritual movement,' it received remarkably little scholarly attention, possibly because the very notion of mysticism and the occult seems to run counter to our conception of modern culture and the modern mindset." There seems to be a preference for conceiving of the rise in scientific thought as being more progressive, overriding what is interpreted as the superstitions of the past. Owen continues, "[t]here remains among historians little developed sense of what such an interest might represent or involve – and this in spite of the fact that the 'rising tide' of new spirituality in the years preceding the Great War is clearly evident and demonstrable."
The Place of Enchantment
does a remarkable job of filling this gap in fin de siecle Britain.
Read More