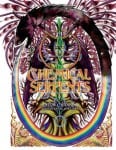 Chemical Serpents: The Symbols of Illumination, by Anton Channing, illustrations by Janice Duke
When Illuminated Press, 978-1-909279-01-8, 100 pp. (incl. appendix, bibliography), 2013, Silver First Edition
I started falling in love with this book as it came out of the packaging. It's tight, and has good, heavy cover stock and glossy high-quality pages. The cover art (an interpretation of Baphomet within an ouroboros) is a feast for the eyes and mind. The notebook-sized format, 8.5 x 11″, gives plenty of room for the text and lavish illustrations throughout its 100 pages. The print is done with accent colours, which takes a little acclimatization, rather like one's first time playing poker with four-colour cards, but then the effect is pleasing.
The plan of the book is Pythagorean, in the sense that it starts with serpent symbolism, including the ouroboros, as the one, moves into egg-and-serpent and other generative symbols for the dyad, then has sections on the trinity, the four elements of the manifest world, then the pentagram, hexagram, and heptagram in the section on the microcosm and macrocosm before synthesizing in the long chapter on world trees, and ending in a Gnostic lecture on illumination. Continue reading →