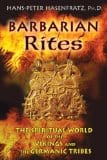 Barbarian Rites: The Spiritual World of the Vikings and the Germanic Tribes, by Hans-Peter Hasenfratz, translated by Michael Moynihan
Inner Traditions, 978-1-59477-421-8, 173 pp. (incl. Translator's Foreword, Introduction, Notes, Bibliography, and Index), 1992, 2011
Barbarian Rites is an English translation of Die religiöse Welt der Germanen: Ritual, Magie, Kult, Mythus ,by Hans-Peter Hasenfratz.
It is a book that straddles categories. It fills the awkward space between lay-oriented summaries and academically oriented historical analysis. Insofar as it is one of the few academically inclined pieces that has been translated into English, it is invaluable, but it is likely too academic for individuals not of a scholarly bent, and too brief to satisfy a curious historian. It serves as a litmus test for whether it is worth one's while to learn German and access the greater pool of scholarship that exists. It's worth noting at this point that Germanic is a broad umbrella that includes what most of us will know as Norse.
Hasenfratz begins his introduction by questioning the meaning of the word 'Germanic,' bringing into question our very ability to define or describe both the Germanic peoples and their religion(s), noting that the availability of sources and accounts varies highly from region to region. Continue reading →