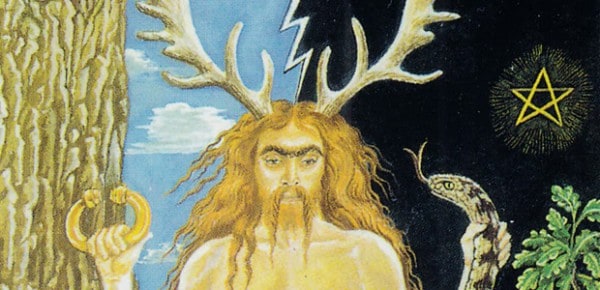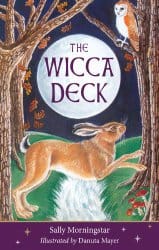 The Wicca Deck, by Sally Morningstar, illustrated by Danuta Mayer
Connections Book Publishing, 978-1-85906-380-4, 42 cards plus instruction booklet, 2014

When The Wicca Deck came up for review I was excited to put in my bid for it. I've worked with tarot and oracle decks for about a decade, but never one based on my own spiritual path. The Wicca Deck is a 42-card oracle deck originally published by Godsfield Press in Great Britain in 2001 and republished this year by Connections, also from Great Britain. Some key elements account for its staying power.
First, the illustrations are simple, cleanly drawn and easily relate to their titles and keywords, reminiscent of the Rider-Waite-Smith tarot. There is some abstract art in the cards, but card themes are always easy to detect; this is perhaps because the artist, Danuta Mayer, illustrates children's books, which usually depict real, basic objects. The clarity works well in this deck. The nature of the Wiccan path is diverse; every practitioner has a slightly different vision, and by keeping visuals straightforward one is invited to see the cards in her own way.
As you'd expect, the artistic interpretations are clearly Wiccan: The Green Man is depicted as the classic face on a tree, Spiral is depicted as the spiral goddess, Black Cat (my favourite) depicts a cat in an Egyptian temple, taking her rightful place as the goddess Bast. Continue reading →