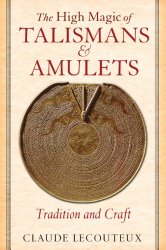 The High Magic of Talismans and Amulets: Tradition and Craft, by Claude Lecouteux
Inner Traditions, 264 pp. (incl. appendices, notes, bibliography, and index), 2014
The first part of The High Magic of Talismans and Amulets goes into the traditions related to amulets and the natural magic thereof, and also examines the tension between established Christianity and the long-standing tradition of magick, especially of the apotropaic (evil averting) sort. One is strongly reminded of the generations of priestly execrations of goddess worship in the Bible, which similarly told us how long the practices persisted, and some details of them which we would not otherwise have had.
The priests inveighing against these charms were particularly intent on discouraging the use of magical characters (alphabetic or sigilic writing that conveys spiritual power). They sometimes waxed poetic: "The demon slithers in the characters like the serpent beneath the flowers." This ties nicely into his statement that "the unknown always inspires the Church with fear."
Lecouteux summarizes part of this history thus: "Implicit in the background are notions of natural, licit magic and illicit black magic," ((p. 30)) after giving one of many examples of a churchman condemning the talismanic art as being an implicit pact with a demon, a pattern which, as he points out, is "commonly repeated throughout the sixteenth century." What this means to me is that the Faustian current which arose in early modern magick didn't just appear without help. Apparently, it is as possible to call an egregore into being by constant execration as by constant evocation! Continue reading →