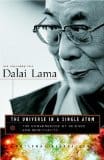 The Universe in a Single Atom: The Convergence of Science and Spirituality, by H.H. Tenzin Gyasto, the 14th Dalai Lama
Broadway Books, 978767920810, 216 pp., 2005
Many books that touch on science and spirituality follow the pattern of using one to try to (dis)prove the other. In this book, while His Holiness seeks the middle path of Science and Spirituality, he doesn't try to marry the results, but the process. Rather than trying to show how science is directly supporting or opposing Buddhist thought, he spends the time focused on the process of science and the importance it holds to Buddhism, as well as how Buddhism must change with the understanding of our world.
"My confidence in venturing into science lies in my basic belief that as in science so in Buddhism, understanding the nature of reality is pursued by means of critical investigation: if scientific analysis were conclusively to demonstrate certain claims in Buddhism to be false, then we must accept the finds of science and abandon those claims."
His Holiness so believes Continue reading →