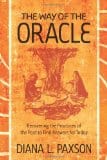 The Way of the Oracle, by Diana L Paxson
Weiser Books, 9781594774904, 247 pp., 2012
This book is an excellent follow up to Diana Paxson's previous work, Trance-Portation: Learning to Navigate the Inner World (Weiser Books, 2008).
The Way of the Oracle is divided into two parts. The first explores some of the historical evidence for oracular practice in Celtic, Greek, and especially Norse cultures. The second section has more of a DIY how-to quality. Paxson has made a very complicated subject engaging and accessible without ignoring the historical and practical problems that exist.
I love that the first section is chalk-full of historical quotes and references paired up with personal anecdotes which connect the background material to lived experience. The historical and mythic examples from Norse and Greek culture are excellent, and the author makes a valiant effort to include Celtic material where possible. Unfortunately, despite having strong traditions of prophesy and second-sight, the Celts did not have many oracular sites, like the Greeks, or travelling oracles with elaborate rituals, like the Norse. While it is not suitable to group ritual, a nod to the tradition of kings, heroes, and regular folk meeting receiving prophesy otherworldly beings at certain times and places (such as late on lonely roads or at dawn on the liminal ramparts) would have been nice. Continue reading →