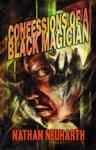 Confessions of a Black Magician, by Nathan Neuharth
Original Falcon Press, 9781935150794, 191 pp., 2010
Our hero in this tale is the author himself, and as no occultist anywhere ever had but one name, he's known variously as Nathan Neuharth, Frater Parsifal, and Natas, or Saint Natas.
The book opens with his initiation into the Golden Dawn, introducing a colourful cast of characters in his new fraters and sorors. Neuharth allies himself with Fater Azazel, a brother in the order who shares his affinity for Aleister Crowley and Thelemic magick. His experiments lead him to encounters with angels, and devils too, not to mention aliens and Atlanteans who offer him questionable messages.
Inspired by Jack Parson's Babalon Working, Neuharth seeks to undertake a similar project he called the Babalon Isis Working. Various incarnations of Babalon appear as she is won, lost, regained and eventually walks out of his life. In the process Neuharth loses his wife, his kids, his job and very possibly his mind. Continue reading →