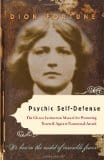 Psychic Self-Defense: The Classic Instruction Manual for Protecting Yourself Against Paranormal Attack, by Dion Fortune
Weiser, 9781578635092, 238pp., 1930, 2001
"This is a warning to the curious: Times, points of view, and fashions change, but never principles." I doubt Dion Fortune knew how true those words would be eighty years after she wrote Psychic Self-Defense. A lot has changed in the world, both the mundane and magickal landscape are drastically different from her time, so much so that it can be hard to see how relevant this book remains today.
The book is divided into four sections. Part I deals with the types of psychic attack, such as witchcraft, vampirism, and when ceremonial magick goes wrong. It also deals with the signs of the attack and analyzing the nature, figuring out what type of attack it is. Part II deals with differential diagnosis or the other things that could be going on. Part III tackles diagnosing the attack in detail, how they are made, and the motives. Lastly, Part IV is what you'd expect from a book with this title, methods of defence.
Part IV deals with a variety of methods, starting off from simple to more complex. The beginner reading this book can learn how to make Holy Water (provided they are Christian), or using garlic to absorb a negative psychic atmosphere. Getting more complex (but more common in this day) you get the Qabalastic Cross and LBRP, as well as creating magickal circles. Finally she touches upon destroying thought forms, and dealing angels, and the "Occult Police." Continue reading →