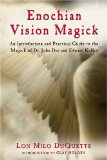 Enochian Vision Magick: An Introduction and Practical Guide to the Magick of Dr. John Dee and Edward Kelley, by Lon Milo DuQuette
Weiser Books, 9781578633821, 261 pp. (incl. appendices, notes, bibliography and index), 2008
Lon Milo DuQUette is the author of more than a dozen books on esoteric subjects, and has served as the OTO's United States Deputy Grand Master since 1994 This is his second book on Enochian magick, his first being Enochian World of Aleister Crowley: Enochian Sex Magick, co-written with the late Christopher Hyatt.
Enochian Vision Magick opens with an introduction by Clay Holden founder of the John Dee Publication Project, an online archive whose "major purpose of this site is to distribute primary-source materials relevant to the "Enochian" work of John Dee and Edward Kelly",. Two prologues follow by DuQuette outlining his interest in and involvement with Enochian magick for the past thirty years. Continue reading →