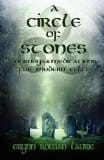 A Circle of Stones: Journeys and Meditations for Modern Celts, Second Edition, by Erynn Rowan Laurie
Megalithica Books, 9781905713776, 124 pp., 2012
It may be showing its age a bit, even the author admits that there have been advances in the archaeological underpinnings of the work, and increased knowledge of the language and culture of the Irish Celtic people. In spite of that, or perhaps because of it, this remains an easily understandable book, and a good source for those who wish to walk the Celtic Reconstructionist path of Paganism.
There haven't been a lot of changes made since it was originally issued. There have been a few improvements in the translation of Irish words, and the illustrations have been redone, but the information is essentially unchanged.
There are numerous suggestions for several rituals, as well as guidelines for the creation and maintenance of altars – including suggestions for turning your entire living space into a sacred environment. One of the great things is that she emphasizes the need for the altar to work for you: it doesn't have to be a certain size or shape, it doesn't have to be kept overly neat and tidy, and it doesn't need to be particularly artistic in its arrangement. It should, however, be a place which you visit frequently, thus alleviating the necessity for dusting it. After all, if you are interacting with the altar constantly, things will not remain static for very long.  Continue reading →