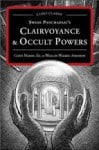 Swami Panchadasi's Clairvoyance & Occult Powers, by William Walker Atkinson, ed. Clint Marsh
Weiser Books, 9781578635009, 187 pp., 1916, 2011
Swami Panchadasi reminds me a bit of Professor X, if only for the fact they're both fictional psychics. Swami Panchadasi is one of ten known alias of William Walker Atkinson who as this legion of authors wrote over one hundred psychic and magickal texts, probably the best known being The Kybalion.
Clint Marsh, the editor of this book, and author of The Mentalist's Handbook, raises a good point in the introduction. "Does it matter that all these Hindu mystics and other exotic psychic practitioners never existed?" I agree with Clint that when it comes to practical working systems this doesn't necessarily matter, but representing yourself as from a tradition you seem to have little understanding of is something I'd disagree with. Continue reading →