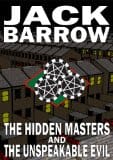 The Hidden Masters and the Unspeakable Evil, by Jack Barrow
Winged Feet Productions, 9780951532911, 286 pp.
What do magicians really do? Is Blackpool really the centre of evil for the UK? Is there a magical spell to make a car start? These and many other questions are asked and answered in this worthy first novel by Jack Barrow, who has written several magical theory and practice books in the last 20 years or so. 
Read More