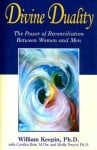 Divine Duality: The Power of Reconciliation Between Women and Men, by William Keepin, Ph.D. with Cynthia Brix, M. Div. and Molly Dwyer, Ph.D.
Hohm Press, 9781890772741, 298 pp., 2007Divine Duality
is perhaps one of the most interesting attempts at a meaningful reconciliation of contemporary gender issues I have read in a long time. It asserts no certain formula or particular answer and so I cannot find any particular or certain fault with it. Abandoning the trite simplifications of popular self help models (
Men are from Mars, Women are from Venus
) which ultimately not only fail to address the deeply conditioned and limiting idea's about gender (held internationally, regardless of social model, religious bias or cultural prerogative,) but most often shamelessly reinforce them.Instead, Dr. Keepin attempts to provide guidelines for a compassionate deconstruction. Men and women are brought together and made to confront the realities and limitations of each other's lives and perspectives.
Read More