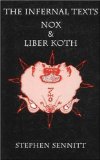 Infernal Texts: Nox and Liber Koth, edited by Stephen Sennitt
New Falcon Publications, 1561842346, 118 (incl. recommended reading), 1997, 1998, 2004Liber Koth
and
Nox: The Black Book
were originally published separately in 1997 and 1998 respectively, by Logos Press.
Nox
is an anthology of twenty-two essays and articles previously published in Sennitt's magazine of the same name written by various chaos and black magickians. Primarily consisting of the rites and theories of the Order of Nine Angels,
Nox
draws heavily on the Golden Dawn, Aleister Crowley, the OTO, and H P Lovecraft for inspiration; often "correcting" their views, Lovecraft in particular (apparently forgetting that he wrote fiction).
Read More