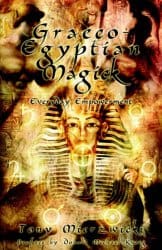 Graeco-Egyptian Magick: Everyday Empowerment, by Tony Mierzwicki
Megalithica Books, 1-905713-03-7, 256 pp. (incl. bibliography, appendixes, and index), 2006
Tony Mierzwicki's Graeco-Egyptian Magick is an excellent beginner's guide to the astrological magick found in the Greek Magical Papyri (PGM or Papyri Graecae Magicae as it is referred to in academic circles). It's clear that this is not the only source text he's well acquainted with.
Those who practice modernized astrological magick may find this book difficult at first. The astrological sequence of initiatory and practical processes follows the Ptolemaic Order (Luna, Mercury, Venus, Sol, Mars, Jupiter, Saturn) because that was the order most prominently used in Antiquity, particularly by the magicians whose works form the basis of the book. He also includes the Homeric hymns for six of the planets, and all of the Orphic hymns for the seven planets. Continue reading →