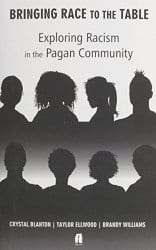 Bringing Race to the Table: Exploring Racism in the Pagan Community, edited by Crystal Blanton, Taylor Ellwood, and Brandy Williams
Megalithica Books, 9781905713981, 295 pp. (incl. author biographies), 2015
A striking collection of essays, current and diverse,
Bringing Race to the Table: Exploring Racism in the Pagan Community
is a work of dedication and power.
Crystal Blanton
, author, editor of two previous books on the topic of diversity, Patheos blogger, Wild Hunt contributor and social worker -- in addition to a priestess and witch -- delivers a must-read text in conjunction with her two coeditors,
Taylor Ellwood
and
Brandy Williams
.Blanton does a stellar job showcasing voices from many perspectives. The diverse authors of the essays come from across the lines of gender, race, socio-economic class, spiritual practise, and education.
Bringing Race to the Table
makes room for many rarely discussed viewpoints, even in advanced circles or books. This makes for a full spectrum and undeniable look at the built-in mechanisms of discrimination that have followed so many of us from the overculture into
Paganism
. The calling-out and of racist, sexist, gendered, and classist behaviour is one string in the fabric Blanton weaves. Another is the choice to not perpetuate these actions in our own lives, but to turn toward the struggles many of our brothers and sisters live with daily.
Read More