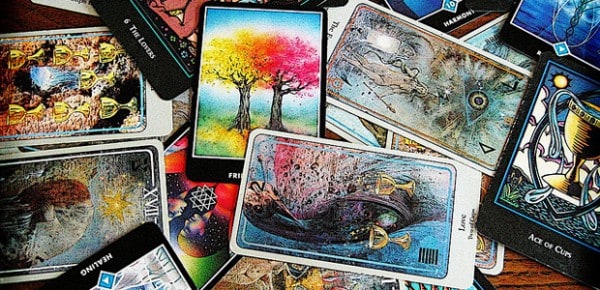 It's nearing the end of the year and I get a familiar message in my inbox, "Will you be joining me for New Year's this year?" I reply with a yes, and mark the day on my calendar as booked. As much as it sounds like it, it is not a date. It's actually a large party where I will be reading tarot professionally.
Tarot readers often attend parties and festivals in order to earn income from their craft. Although festivals tend to be large and well attended, private parties can be much smaller and more intimate. The type of parties I read at, however, are quite large, often with hundreds of people in attendance.
For this particular event, I am one of three readers hired. We will all be together in the room, and may read up to 150 people each over the course of one evening, depending how busy it is. If this sounds impossible, believe me, it isn't — it's just exhausting.
Large events can be very lucrative for readers. Organizers, who may be from corporations throwing holiday parties, private party planners, or neighbourhood committees, and so on, like to have unique performers at their events, and everyone is at least a little interested in divination. The key to handling these draining events is thoughtful planning. Continue reading →