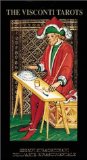 Visconti Tarots Kit, illustrated by A. A. Atanassov, companion book by Giordano Berti and Tiberio Gonard
Kit: Lo Scarabeo/Llewellyn Wordlwide, 0738702935,78 (+2) (deck), 159 pp. (book), 2002
The kit edition of the Visconti tarot published by Lo Scarabeo and distributed by Llewellyn Worldwide in North America, consists of a 78 card tarot deck, accompanied by a book of the same name detailing a brief history and descriptions of the cards.
Berti notes in the introduction that 'today, in private collections, museums and libraries in Europe and America there are still sixteen packs of tarot cards attributed to Visconti commissions, but as he states "none of them are complete, unfortunately." However, the Visconti decks of the Milanese court provide examples of some of the oldest surviving tarot decks. Continue reading →