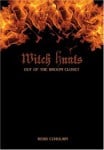 Witch Hunts: Out of the Broom Closet, by Kerr Cuhulain
Spiral Publishing, 9780975540367, 302 pp. (incl. appendices and bibliography), 2005
Kerr Cuhulain is a twenty-seven year veteran of the Vancouver, BC, Police Department. He has seen, first hand, the results of the misunderstandings, both unintended and intentional, regarding Pagan beliefs – lives ruined, families destroyed, and religious agendas advanced.
The first few pages of this book are enough to frighten even the most jaded among us. From several "official sources" he cites evidence of occult activity to be looked for such as jewellery, gongs, audio/visual recording equipment, music with an occult theme, candles, silver implements, incense, needles, oil, seashells, and the list goes on. Amazing! If you use massage oils and candles to enhance your lovemaking you too can be considered a Satanist. Continue reading →