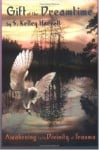 Gift of the Dreamtime: Awakening ot the Divinity of Trauma, by S. Kelley Harrell
Spilled Candy Books, 9781892718501, 146 pp., 2004
Gift of the Dreamtime is author S. Kelly Harrell's account of her personal visionary experiences. Or at least we assume it is: we're not given any context; there are no disclaimers or introductions. Harrell drops us right into the thick of it, beginning with her first visionary experiences, initiated by the drumming of a shaman (one whom we are never actually introduced to). After the initial exploration of her lower and upper dreamworld and an introduction to both animal and spirit guides, the shaman recedes from view; presumably Harrell undertakes the remaining journeys by herself.
This is an unusual book. It's not a theoretical book. It's not a how-to manual. It's not a biography either. It's a diary more than anything else. Harrell opens up to the reader; if she holds anything back it's not obvious. This is the story of her pathway, the road she took to disentangle the complex ball of emotions generated by her incestuous childhood sexual abuse. Continue reading →