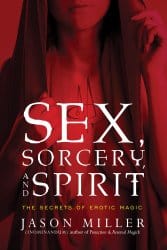 Sex, Sorcery, and Spirit: The Secrets of Erotic Magic, by Jason Miller
New Page Books, 9781601633323, 224 pp., 2014
Sex magick can seem like some dark taboo, especially for people who are new to their spirituality. Thanks to its portrayal in the media, it seems like something dangerous and forbidden.
Sex, Sorcery, and Spirit: The Secrets of Erotic Magic
by
Jason Miller
works to demystify this ancient practice and bring it to modern practitioners.
Sex, Sorcery, and Spirit
is a book designed for beginners in the practice of
sex magick
, but not for people who are beginning their journey into spiritual practice as a whole. The book details many novice practices to get one started using sex magick, however, it does so with the expectation that one already has some basis in some sort of practice already.
Read More