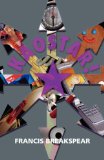 Kaostar! Modern Chaos Cunning Craft, by Frances Breakspear
Hidden Publishing, 97809555523717, 118 pp., 2007
The early and mid-nineties saw a number of fresh and innovative books on chaos magick by the likes of Phil Hine, Jaq Hawkins, Jan Fries and, of course, Peter Carroll, but this seems to have petered out by the nills. More recently the rise in print-on-demand publishing companies like Lulu.com and CafePress.com have facilitated a revival in the classic texts, making titles such The Book of Results and The Theatre of Magick by Ray Sherwin available once more.
Chaos magick has never been an especially popular area of occultism; it places itself on the fringe of the fringe, occulted even amongst the occultists – it's a glamour that suits it well, but there have never been chaos magick books published in the numbers seen by those relating to Golden Dawn style magick, for example. The chaos current has been proclaimed dead numerous times, but there's life in 'er yet. Continue reading →