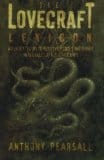 The Lovecraft Lexicon: A Reader's Guide to Persons, Places and Things in the Tales of H.P. Lovecraft, by Anthony B. Pearsall
New Falcon Publications, 1561841293, 472 pp. (incl. appendix), 2005
Lovecraft invented so many creatures and places, for a new reader approaching his works for the first time, keeping them straight could seem overwhelming.
The Lovecraft Lexicon
aims to aid the reader by providing a useful guide to his creations: people, places, things, and, of course, Things. It's a neat idea, and it works.
Read More