Jason Miller (Inominandum) is a sorcerer, author and teacher. I recently had a chance to talk with him about his fourth book, Sex, Sorcery, and Spirit, which recently came out from New Page Books.
He's been interviewed quite a bit lately in various podcasts (which I highly recommend checking out), and I wanted to take our talk in a new direction.
We chat about sex magick, the dangers of marathon sex sessions, and when it's appropriate to let your partner know that you're a wacky occult sex magician.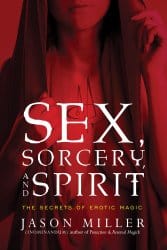 Psyche: For those who haven't yet read Sex, Sorcery, and Spirit, could you tell us what it's about?

Jason Miller: The book is about using sex as a tool in magick and spirituality, as opposed to using magick for finding sex, which is good too, but it's a separate thing.
Sex is this immensely powerful, primordial experience — at least good sex. It hits us on all the levels. In my second book, The Sorcerer's Secrets,  I talk about the mental or divine level, the energetic level, and the bodily level. The magick of sex must have been so important to prehistoric man. Physically speaking, this is what results in people. You can divert that into something else. This is the power of creation. It's just natural to want to harness that. And use it for your own evil purposes [he laughs], or to harness that energetically.
I think there are very few people who don't feel the energies of the body working during sex. You take somebody who is just an energetic dullard — doesn't practice yoga, doesn't do tai chi, goes to martial arts and doesn't know what the hell their sensei is saying when they say ki — just not tapped into that bodily energy at all. I think during sex, even they feel the energy of the head and the way it moves in the belly, and gathers. There's this energetic response to sex that just pumps the volume up on the energy level.
On the mental plane, you have this mental explosion: le peitit morte, what the French call "the little death," because it's this ego shattering moment — at least good ones. Continue reading →