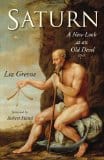 Saturn: A New Look at an Old Devil, by Liz Greene
Weiser Books, 9781578635078, 196 pp., 1976, 2011
It's hard to say 25 years later how good of a book Saturn really is. Some books it's easy to tell how they've aged, but this isn't one of them. My problem in discerning how good the book is stems from the fact that throughout the book, the foreword, the blurb on the back it talks about how revolutionary and ground breaking this book is, yet nothing in it is new to me, in fact every book I have on modern astrology agrees with it. So either this book really was prolific in that sense, or it was overly hyped up.
The basic premise of this work is two-fold: Saturn is this misunderstood force and can be beneficial, and astrology has to be taken out of the realm of dictatorial fate.
Tackling the first part, this "New look at an Old Devil" this is where I have trouble seeing what makes this book special. If it was the first book to engage with Saturn in a positive light, then it has done its job, because all my modern astrology books mention some of the good side of Saturn, and when I was apprenticing my astrology teacher showed me both sides. Continue reading →