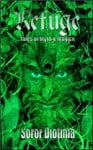 Refuge: Tales of Myth and Magick, by Soror Diotima
Konton Publishing, 490346203X, 223 pp., 2005
When was the last time you licked up a book of myths? How about a book which retells myths in a new and novel (although not necessarily modern) way? Well, you've got one in your hands right now. And that's not all. The stories are interspersed with poetry. Both are seemingly simple creations, but they are in actuality much more.
They work on multiple levels – they entertain; they convey older knowledge; and they stimulate your thought processes. These tales of myth and magick are a pleasure to read.
Oh, there are occasional Continue reading →