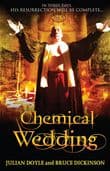 I'm just back from the late-night regional premiere of the new Crowley-based film,
Chemical Wedding
, here in England. Much anticipated, this film is the brainchild (or should that be Moonchild?) of Bruce Dickinson. He is apparently a long-time Crowley fan, and will be better known as the screaming front man of perennial stadium heavy-metallers Iron Maiden. Apart from a few peripheral references in recent mainstream film (one of the Hellraisers, Razorblade Smile, etc.), Crowley hasn't really been touched on for decades - you have to go back to the often appalling sixties' Hammer Horror stuff, based on Dennis Wheatley's books, or the 1950s classic
Night of the Demon
.The prospects here looked good, with a prominent Shakespearian/Dickensian actor (Simon Callow) in the lead role instead of some unknown no-hoper. The plot encompassed some science fiction angles (the film
Weird Science
from the 80s immediately sprang to mind) and it is set in a modern-day Cambridge University, with a chaos-mathematics/quantum physics slant on to proceedings. Crowley is essentially called back to life via virtual reality technology, and possesses the body of an elderly and befuddled professor, who suddenly becomes the Beast renewed (in a rather natty purple velvet suit). Sounded like a great premise, and the online trailer, released ages ago, was simply fabulous.Well, now I've seen the film...
Read More